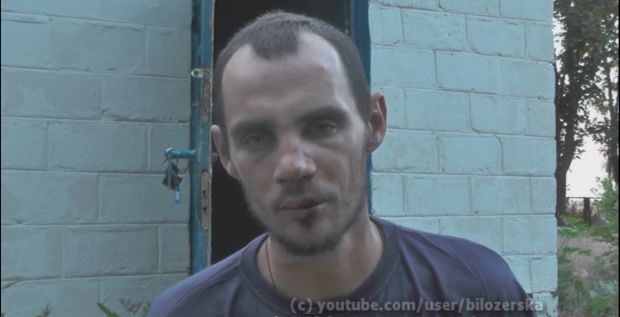 Photo from facebook.com/bilozerska
The man was captured by Right Sector fighters during reconnaissance operations in the village of Shyrokyne, the commander of Right Sector's Eighth Company, identified by his call sign Cherven, told 112 Ukraina.
"While conducting intelligence activities on the demarcation line, we captured a Russian soldier in the village of Shyrokyne. He had a military ID and a passport of the DPR. An investigation is being carried out now," the commander said.
According to documents shown to journalists, the prisoner was a driver-mechanic of a military unit fighting in Shyrokyne and a resident of Stavropol region in Russia.
The Russian prisoner is now being detained by Right Sector.
"Any decision to relocate the military detainee will be taken by [Right Sector leader] Dmytro Yarosh," Cherven said.
According to the commander, there were no requests from the militants for the release of the prisoner.
"Such level of people are of no importance to the militants. They repeatedly beat him, because they could not agree on sharing out wages and [money from] stolen non-ferrous metals," the commander said.
In video of an interview with the man, he said had been treated well by his captors. He said he had come to Ukraine in May, giving no reason for coming to the country, but implying that he may have had problems with the police.
In the video, the man in made to bare his back to the camera, to show a large neo-Nazi tattoo. The video also shows the man's captured documents, including military papers issued by the DPR militant organization with the serial number 0024528.
Video by Olena Bilozerska