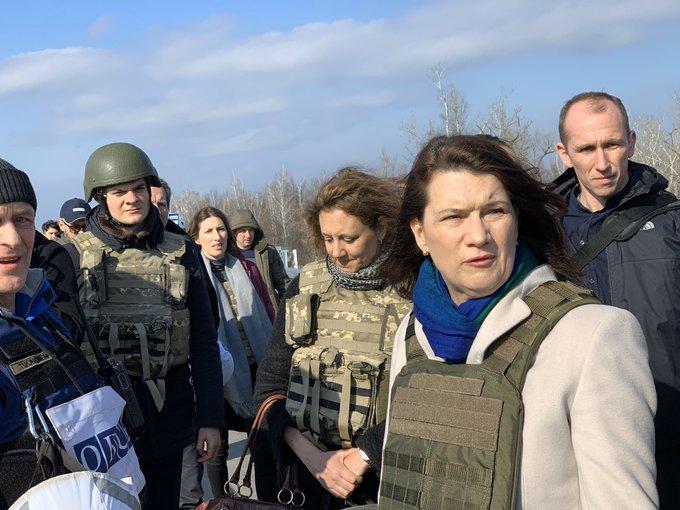 Sweden's MFA visits Donbas/ Photo from twitter.com/AnnLinde
Sweden's Minister of Foreign Affairs Ann Linde says that during her recent visit to Donbas, eastern Ukraine, she has seen "devastation and suffering" as a result of Russian aggression.
"At the bridge over the contact line at Stanytsia Luhanska in eastern Ukraine," she said on Twitter on March 3. "The Russian aggression has caused tragic devastation & suffering. Still, the OSCE SMM [Special Monitoring Mission to Ukraine] & hum[anitarian] partners such the United Nations Office in Ukraine do an impressive work."
Read alsoOne Ukrainian soldier killed, another four wounded on March 3
She said she was highly motivated for Sweden's OSCE chairpersonship 2021.
Deputy Minister for Foreign Affairs of Ukraine Yehor Bozhok, in turn, wrote that he accompanied Linde on her trip to Donbas. "Visited Stanytsia Luhanska, witnessed results of Russia's aggression, inspected security situation after disengagement, working check-point and restored bridge. Grateful to Swedish friends for support at SweMFA [Sweden's Ministry of Foreign Affair]," he wrote on Twitter on the same day.