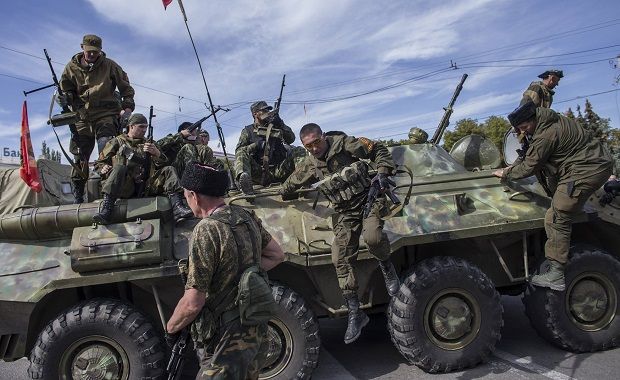 REUTERS
According to the report, the militants fired mortars of various calibers, including 120mm mortars 16 times and 122mm howitzers three times.
Weapons with calibers over 100mm were supposed to have been withdrawn by both sides well out of range of the front line weeks ago, according to the Minsk peace agreement. However, the OSCE, which is charged with monitoring the pullback, says neither side has fully complied, and the organization's mission doesn't even have access to large swathes of the militant-held parts of Ukraine's Donetsk and Luhansk regions.
"From Tuesday night to Wednesday morning, the Russian-backed militants not only continued their attacks, but also tried to break through [the front line]. After midnight, an assault group of about 30 militants unsuccessfully attacked our positions near the town of Maryinka," the report says.
After that, under the cover of 120mm mortar shelling, another militant group of no less than 150 people tried to attack the positions of the Ukrainian military. Reports about casualties are being verified.
"In general, the Ukrainian armed forces recorded about 40 cases of attacks on the positions of the Ukrainian army and infrastructure of settlements in the last day. The militants fired 120mm mortars and tank shells on the town of Maryinka before attempting to break through [Ukrainian lines]. They also fired the same weapons on the village of Starohnativka," the headquarters said.
In the area of Luhansk, the militants fired 122mm howitzers on the villages of Orikhove and Novotoshkivka, as well as 120mm mortars on the town of Zolote, and rocket-propelled grenades on the village of Triokhizbenka.
In the area of Artemivsk, the militants fired 120mm mortars on the positions of the Ukrainian armed forces near the village of Troitske. They also fired tank shells and a portable version of a Grad rocket launcher on the village.