Militants try to break through front line at Maryinka three times overnight
Russian-backed militants in the Donbas attacked Ukrainian army positions and residential areas 79 times from Wednesday evening to Thursday morning, the press center of the Ukrainian military's Anti-Terrorist Operation (ATO) said on its Facebook page on Thursday.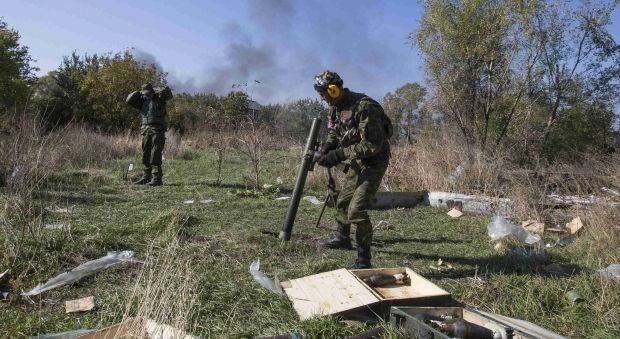 REUTERS
According to the report, on 17 June, the situation in the Donbas conflict zone was tense, but under control of the Ukrainian armed forces. According to Ukrainian military reports, the number of attacks on Ukrainian forces has risen to levels similar to those seen before the latest ceasefire was supposed to have come into force in February.
As in previous "ceasefires," the number of militant attacks initially lessened greatly, only to steadily rise again in the following weeks and months, with no true ceasefire ever fully taking hold.
"The militants tried to break through the front line three times near the town of Maryinka and in Luhansk region. Our units successfully repelled the attacks of the enemy," the Ukrainian military's report says.
Over the last day, the militants fired along the demarcation line all types of weaponry that they should have withdrawn according to the Minsk peace deal, including 120mm, 122mm and 152mm caliber artillery and Grad multiple rocket launchers, the military press center said.
"The night in the Donbas conflict zone was also tense. Russian-backed militants attacked Ukrainian army positions 35 times. In the area of Donetsk, the militants fired 120mm mortars on the positions of the Ukrainian armed forces near the village of Khimik, and the towns of Krasnohorivka and Maryinka," the ATO headquarters said.
In the area of Artemivsk, the militants fired 152mm howitzers twice on the village of Troitske. They also fired mortars of various calibers on the villages of Novhorodske and Nelipivka.
In addition, the militants fired 82mm mortars, weapons on combat vehicles, rocket-propelled grenades and small arms on the positions of the Ukrainian army and infrastructure of the settlements in all directions in the last day.
Militants attacks on the Ukrainian army in Luhansk region were less extensive. However, a military clash between the Ukrainian troops and two militant assault groups took place near the village of Sokilnyky late last evening. The enemy suffered losses and had to retreat, the headquarters said.
Ukraine refers to its military operations in the east of Ukraine as an anti-terrorism operation, but an increasing body of evidence indicates that the conflict is in fact a proxy insurgency started and fueled by Russia, which supplies the militants with weapons, ammunition, military vehicles and troops.
There is also evidence that on occasion regular units of the Russian army are sent into Ukraine to help the militants capture key objectives, such as the rail transport hub of Debaltseve, which fell to militant forces on February 18, days after a ceasefire was supposed to have come into effect.
If you see a spelling error on our site, select it and press Ctrl+Enter