OSCE monitors see many of Donbas militants' weapons banned by Minsk accords
The OSCE Special Monitoring Mission (SMM) to Ukraine has seen militants massing heavy weapons in Donbas in violation of the Minsk peace agreements, according to a recent update by the OSCE SMM based on information received as of 1930 Kyiv time on June 18, 2015.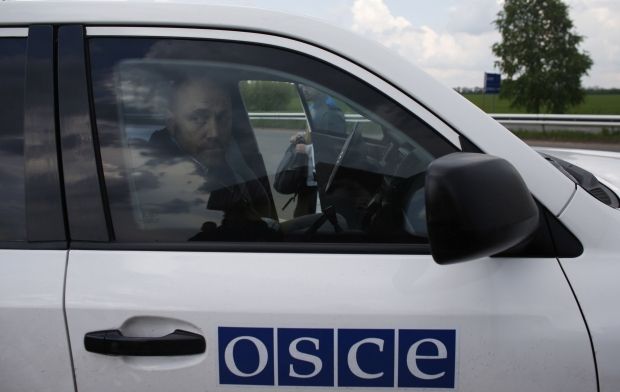 REUTERS
Despite claims that the withdrawal of heavy weapons was complete, the SMM observed movements of weapons in militant- and Ukrainian-controlled areas that are in violation of Minsk withdrawal lines, the update reads.
In particular, in areas under the control of the "LPR," the OSCE monitors observed 33 self-propelled howitzers (2S1 Gvozdika 122mm), 12 towed howitzers (D-30 122mm) said by an "LPR" member at the site to be a training area.
They also saw 15 main battle tanks (MBT) (T72 and T64) taking part in what the SMM assessed was an exercise; six 100mm anti-tank guns (T-12 Rapira), 11 BM-21 Grad multiple rocket launchers and six 152mm towed howitzers (2A65 Msta-B). What is more, the monitors saw one Ural truck with a mounted anti-aircraft machine-gun (ZSU-23) and six T-64 tanks (five at one location).
In government-controlled areas, the SMM observed one 120mm artillery tube hidden under camouflage; and one MBT (T-64) and one MBT (T-72) being transported by trucks.
In "DPR"-controlled areas, the SMM saw a concentration of 24 MBTs (T-72) undertaking what the SMM assessed to be training maneuvers. In "DPR"-controlled areas, an SMM unmanned aerial vehicle (UAV) detected four howitzers, 11 armored personnel carriers, a concentration of 11 MBTs in the area of Michurine (63km south of Donetsk) and a further ten MBTs around Komsomolske (43km south of Donetsk).
If you see a spelling error on our site, select it and press Ctrl+Enter