Poroshenko: "We're looking for just 1,240 Javelin missiles"
Ukrainian President Petro Poroshenko says that Ukraine needs 1,240 Javelin anti-tank missile systems in an answer to a question about the kind of weapons his armed forces would need to deter further aggression by Russia and its separatist proxies in eastern Ukraine, The Wall Street Journal wrote referring to an interview with the president.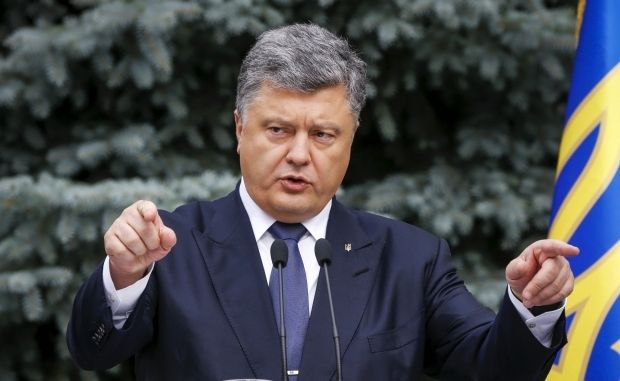 REUTERS
"We're looking for just 1,240 Javelin missiles, and this is absolutely fair," he told The Wall Street Journal.
The number of 1,240 has special significance for Poroshenko. He said that was the number of nuclear warheads Ukraine had given up under the 1994 Budapest Memorandum, jointly signed by the U.S., Britain and Russia.
"Ukraine voluntarily gave up its nuclear arsenal," Poroshenko said, "and in exchange for that the United States of America and Great Britain ... promised to guarantee our sovereignty and territorial integrity," The Wall Street Journal quoted Poroshenko as saying.
At this, Poroshenko stressed that Ukraine is not "demanding that British, American or French soldiers come here and fight for us."
"We are doing this ourselves, paying the most difficult price – the lives of my soldiers. We need just solidarity," Poroshenko said.
"If we do not stop the aggressor, that means global security doesn't exist. Anytime, any plane or submarine can make a missile attack, including against the U.S.," he told The Wall Street Journal.
There is a constant shelling of Ukrainian soldiers and civilians by Russian-backed militants, Poroshenko noted adding that the total death toll of civilians and military personnel in eastern Ukraine is now close to 9,000 people.
"Nobody can imagine that this can happen in the center of Europe in the 21st century," Poroshenko emphasized.
As UNIAN reported earlier, Ukraine's newly appointed ambassador to the United States Valeriy Chaly said that Ukrainians would need at least 1,000 Javelin missile systems in case of a further large-scale Russian-launched offensive in Donbas.
If you see a spelling error on our site, select it and press Ctrl+Enter