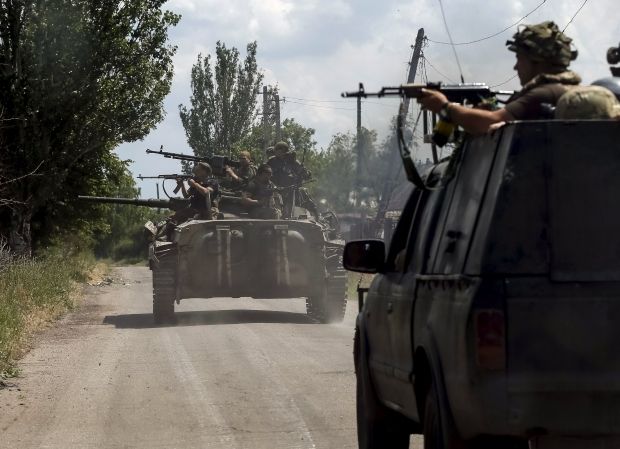 REUTERS
"Thanks to the taken measures, resolute and professional action of the 72nd mechanized brigade, the enemy was stopped and repelled by two-three kilometers back," the report says.
"Our units have taken key heights, which were previously controlled by terrorist groups. The enemy has suffered considerable casualties and lost military hardware," the report reads.
As it became known, seven Ukrainian soldiers were wounded during the battle.
According to the Defense Ministry, the terrorist groups numbering up to a battalion task force, with the support of 10 tanks and 10 armored personnel carriers and other equipment went on the offensive on the fortified position of the 72nd mechanized brigade near Starohnativka.
"The Defense Minister and Chief of the General Staff of the Armed Forces of Ukraine immediately reported this to the President of Ukraine and the OSCE representatives, whereupon it was decided to bring Ukrainian artillery systems to certain heights," the ministry said.
Ukrainian correspondent Andriy Tsaplienko wrote earlier today on Facebook that the 72nd brigade had forced the Russian-backed militants to withdraw from the enemy-controlled village of Novolaspa for the first time since February.