Ex-president Kravchuk advises isolation of occupied areas in Donbas
First President of independent Ukraine Leonid Kravchuk (1991-1994) claims Ukraine must isolate occupied areas in Donbas until their liberation, according to Ukrainian weekly Novoe Vremya.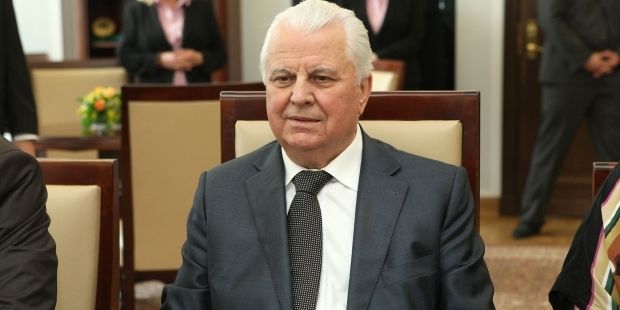 Former President Kravchuk is sure Crimea will become part of Ukraine sooner or later / Photo by Michał Józefaciuk
"It's a contact line between Ukraine and militants from DPR and LPR [two self-proclaimed republics of Donetsk and Luhansk respectively] rather than the border between Russia and Ukraine. We take this line as the status quo, as a temporary dividing line and cease using fluent phrases like 'humanism,' 'it's our people who live there,' 'they need help,' 'we must collect taxes here and help them in a plight there.' We must temporarily cut out that territory until it has been liberated," he said.
He stresses it's time to let Kremlin-backed militants "rule in 'their' territories."
"Let's see which money will be in circulation there. We must stop economic, political and other relations with them," he said.
"If people who are in territory that is not controlled by Ukraine want to live a new life, let them [the occupying authorities] be taken off the pedestal as the administration was taken off at Kyiv's Maidan," Kravchuk said.
At the same time, Kravchuk stresses that Ukraine must "carry out reforms, elections and build a new life, fight corruption" in the areas it controls.
When asked whether Ukraine restores its borders that existed as of February 20, 2014, Kravchuk answered positively.
"Sometimes it takes a century when everything gets back to its normal course. Both the West and the United States will eventually understand that Russia is a dangerous state in the world today. And sanctions need to be imposed against it not because it does not abide by the Minsk agreements. The Minsk accords are a special case while Russia's political philosophy rests on aggression. And the sanctions should be in effect until they [in Russia] realize that they must either become part of the civilized world or exist on the margins. Not that powerful they are as they pretend to be," Kravchuk added.
If you see a spelling error on our site, select it and press Ctrl+Enter