OSCE reports rise in truce violations along Ukraine front lines
22:00, 05 November 2015
War
International monitors in eastern Ukraine have reported a sharp increase in gunfire along front lines near the airport of the rebel-held city of Donetsk, a senior official with Europe's main security and rights watchdog said on Thursday, according to Reuters.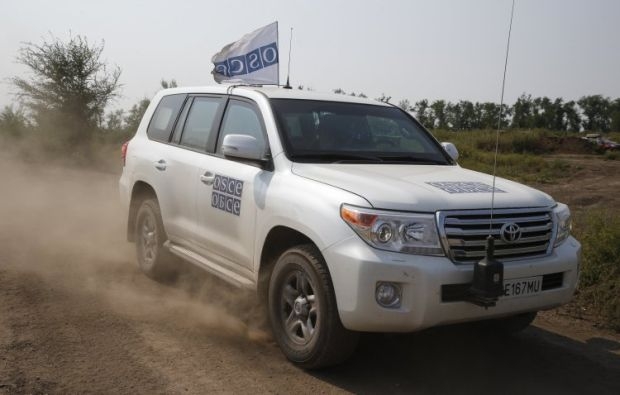 Photo from UNIAN
The guns have been mostly silent since early September, prompting both sides to extend a pullback of lighter weapons, but recent accusations of ceasefire violations from both sides have underscored the fragility of the peace process, Reuters reports.
Renewed violence would also make it less likely that the European Union lifts sanctions against Russia based on a review before the end of the year, though Russia has repeatedly denied it is backing the rebels in east Ukraine.
The Organization for Security and Cooperation in Europe (OSCE), which monitors the implementation of the ceasefire agreement, said it had noted violations near Donetsk airport, a long-time hotspot for fighting.
"Since Sunday, monitors noted a noticeable increase in violence in and around Donetsk airport, none of which we can attribute to demining or training," Alexander Hug, deputy chief monitor to the OSCE mission in Ukraine, was quoted by the OSCE on Twitter as saying during a weekly briefing.
Read alsoOSCE: "Misbehaving" Russian observer dismissed from Ukraine missionThe OSCE monitors' report on Wednesday cited over 150 explosions and multiple bursts of small-arms and anti-aircraft machine-gun fire heard in various areas of the front.
"Of particular worry is that at least one Grad rocket was used in Staromykhailivka ... on Nov. 2," he said, referring to a western district on front lines west of Donetsk.
On Wednesday a Ukrainian security chief said the withdrawal process would stop if truce violations by pro-Russian separatists continue, while separatists said attacks from the Ukrainian side suggested the peace deal existed only on paper.
U.S. officials later expressed concern over the recent uptick in violence.
If you see a spelling error on our site, select it and press Ctrl+Enter