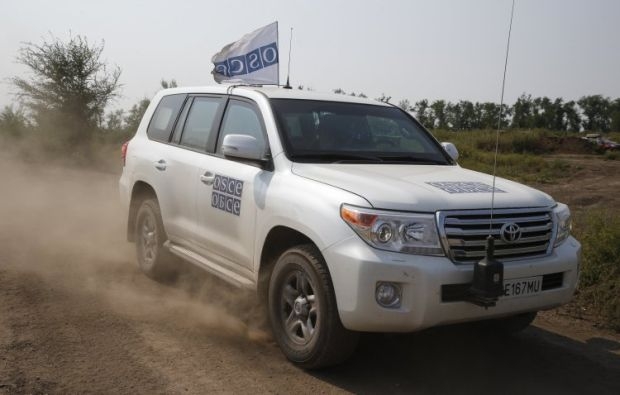 OSCE monitors say that Ukraine's military authorities have also as of yet to provide arms inventories / Photo from UNIAN
"The SMM continued to monitor the withdrawal and movement of heavy weapons. Neither "DPR" [the Donetsk People's Republic] nor "LPR" [the Luhansk People's Republic] members have yet provided inventories or locations of designated permanent storage sites for these weapons as requested by the SMM on October 16," the OSCE SMM said in its daily update based on information received as of 19:30 local time on November 24, 2015.
The Ukrainian military authorities have also as of yet to provide such information, the OSCE SMM said.
"Nonetheless, the SMM revisited locations beyond the respective withdrawal lines known to the SMM as heavy weapons holding areas, even though these did not comply with the specific criteria set out in the October 16 notification," the update said.
According to the OSCE SMM, at the Ukrainian Armed Forces holding areas, the SMM observed in total 15 self-propelled howitzers (seven 2S3 Akatsiya, 152mm and eight 2S1 Gvozdika, 122mm), 15 anti-tank guns (MT12 Rapira, 100mm), 12 multiple launcher rocket systems (BM21 Grad, 122mm), 26 mortars (23 2B11, 120mm and three BM38, 82mm), and 21 towed howitzers (three D30, 122mm and 18 2A65, 152mm).
In other areas beyond the withdrawal lines, the SMM observed the following weapons: 20 main battle tanks (MBT; T64) in a training area in "LPR"-controlled Kruhlyk (31km south-west of Luhansk).
The SMM also monitored the movement of other hardware: a convoy of 14 military-type trucks (mostly Ural) heading west between "DPR"-controlled Zugres and Shakhtarsk (32 and 50km east of Donetsk, respectively), 15 military-type trucks (Ural and Kamaz) going to and from Donetsk airport throughout the day, including one Ural truck mounted with an anti-aircraft gun (ZU-23, 23mm) driving towards the airport.