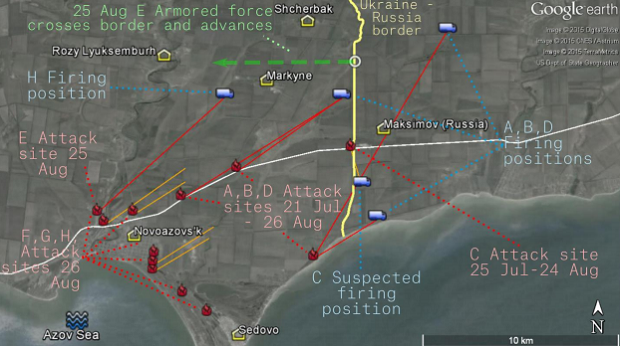 Summary of artillery attacks in the Novoazovs'k region, from 21 July to 26 August 2014. Red solid lines indicate the trajectory of artillery fire that has been matched to a firing point found from satellite or social media evidence. Orange lines indicate a trajectory estimated from photo or video at the attack site – the firing point is unknown. The green line indicates the movement of attacking forces after advancing across the border on 25 August 2014 / bellingcat.com
"Evidence from social media and satellite imagery shows that two artillery attacks on August 23 2014 came from Russian territory," reads the report.
"Two T-72Bs [main battle tanks] and one 2s19 Msta-S sighted in Novoazovs'k after its capture were transported from Russia. The report also provides analysis of other attacks in the Novoazovs'k area during July / August 2014, several with some (but not conclusive) evidence suggesting attacks from Russian territory," the experts said.
The report also investigates the origin of T-72B armored main battle tanks (MBTs) and howitzers that were filmed or photographed close to Novoazovs'k after the town was taken. Building on previous work, we show that two T-72B tanks and one 2s19 Msta-S 152-mm self-propelled howitzer were transferred from Russia to Ukraine in late summer 2014. These two specific T-72Bs and the 2s19 Msta-S were sighted earlier inside Russia, demonstrating that these vehicles were of Russian origin.
Read alsoBellingcat publishes map of Russian military crossing into UkraineIn summary, open source evidence shows that attacks on Ukrainian forces around Novoazovs'k came from Russia, and vehicles used in the conflict in the area were transported from Russia. This report adds to the growing body of evidence showing that Russia was directly involved in the Ukrainian conflict of 2014-2015.