OSCE opens Forward Patrol Base in Debaltseve
16:30, 10 December 2015
War
The OSCE Special Monitoring Mission to Ukraine (SMM) is opening a new Forward Patrol Base in Debaltseve on Thursday, the third such Base established by the Mission in the Donetsk region and the second one in an area outside of government control in this eastern region of Ukraine.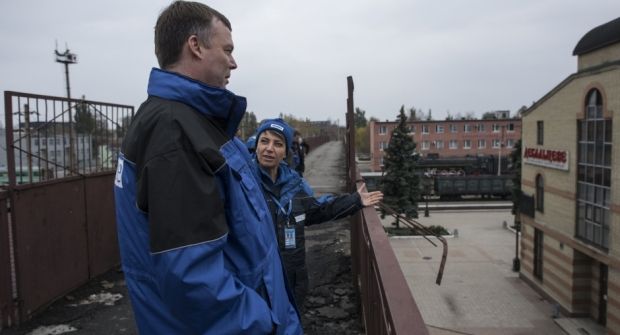 osce.org
"Following the successful opening of our Forward Patrol Base in Horlivka just yesterday, we are extending our permanent presence to Debaltseve. Thus we can be closer to the contact line where most incidents take place and therefore follow up on them more efficiently," said Principal Deputy Chief Monitor Alexander Hug, according to a press release of the SMM.
He added that the SMM is planning to open more such Bases on both sides of the contact line to enable parity in monitoring.
Read alsoFull OSCE access to militant-held border in Ukraine remains in questionAccording to a press release, the SMM establishes Forward Patrol Bases in the east of Ukraine to enhance its monitoring and thus encourage the signatories of the Minsk agreements to honor their commitments. This will also help the monitors to be closer to the residents of the areas most affected by the conflict and learn more about their concerns.
The SMM has been ready to open a number of Forward Patrol Bases in the area for the last two months and expects those in effective control to support their establishment by providing security guarantees for the monitors.
Read alsoSuspended OSCE monitor confirms he's Russian GRU officerBoth the Ukrainian and Russian sides at the Joint Centre for Control and Co-ordination (JCCC) have supported this move by the Mission.
Currently the Mission operates five Forward Patrol Bases in Ukraine: two in government-controlled areas – in Volnovakha (Donetsk region) and in Novoaidar (Luhansk region); and three in areas outside of government control: in Stakhanov (Luhansk region), and in Horlivka and in Debaltseve (Donetsk region).
If you see a spelling error on our site, select it and press Ctrl+Enter