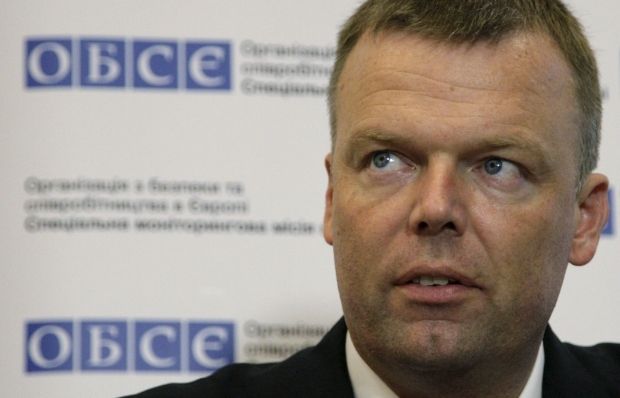 REUTERS
"Many interlocutors in public institutions controlled by the so-called DPR have been insisting that we received permission of the so-called DPR prior to allowing us to visit or even speak to them. At the minimum, it is certainly on the so-called DPR to clarify with these people letting them publicly know that no such requirement exists. When they do so, they should also emphasize the SMM's freedom of movement, which is guaranteed in its mandate and in the Minsk agreement," Principal Deputy Chief Monitor Alexander Hug said at a briefing in Kyiv on Friday.
"A more serious challenge to our freedom of movement, however, has this week emerged at checkpoints controlled by the so-called DPR. In what is now, a near systematic practice, armed members of the so-called DPR have been insisting on unspecified authorization from the so-called DPR. We always had problems going through these checkpoints, but until now a call to people of the high chain was usually sufficient to resolve the situation. This week, all attempts to reach such people within the so-called DPR failed," said the official.
Read alsoFull OSCE access to militant-held border in Ukraine remains in question"These are the same people who signed up to provisions of the Minsk Memorandum, one of which guarantees the right to the SMM to move freely. This practice and the apparent tolerance of the denials by the leadership of the so-called DPR must stop now. If it doesn't, the SMM's ability to monitor the ceasefire and the withdrawal of weapons from the contact line, to say nothing about other mandated duties, will be severely compromised," Hug said.