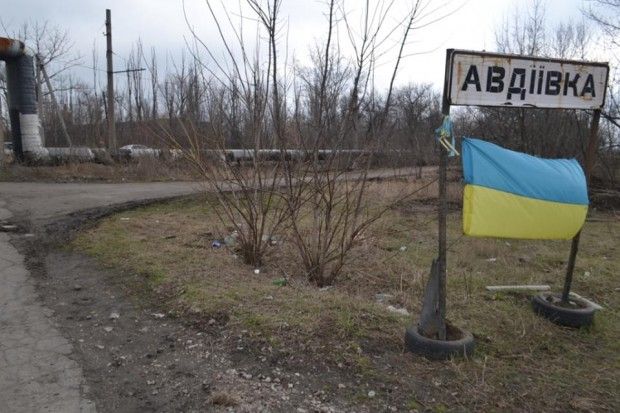 Fighting near Avdiyivka has been going on for several days / facebook.com/ato.news
"More losses are recorded at the units of 11th separate motorized rifle regiment (Makiyivka) and 3rd separate motorized rifle brigade (Horlivka) of the 1st Army Corps (Donetsk) of the Russian Armed Forces, participating in hostilities near Avdiyivka. Six Russian soldiers were killed on March 22-23, and another five were seriously wounded," the Ukrainian military intelligence says.
Later on Thursday, a video of an intense combat action overnight, when the ATO forces-held industrial zone near Avdiyivka was encircled by the enemy, was published on the Internet, according to a volunteer activist Vitalii Deynega.
"A 500-meter long road connecting the city and the industrial area was shelled with 152mm howitzers. Sabotage and reconnaissance groups penetrated the groves on each flank. The passage for any reserves to come in was hindered," reads his Facebook posting.
The volunteer said that the shelling of the Ukrainian positions came from all directions: a tank engaged, as well as 120-mm mortars, 152-mm howitzers, and grenade launchers of different types.
"One of the potisions near the 'dachas' [country houses] was surrounded by militants. Hard contact with the enemy was at a distance of several meters. To repel the attack, the troops called fire upon themselves," Deynega said.
Warning: The footage contains explicit language (Ukrainian)
Ночной бой на авдеевской промзоне

Сегодня ночью авдеевская промзона оказалась в оперативном окружении500 м грунтовки, связывающей город и промзону простреливали 152 мм гаубицы. В лесочке, что по бокам - шастали дрг. Проход для резерва был затруднен. Обстрел украинских позиций велся со всех сторон. Работал танк, 120-ые минометы, 152 мм гаубицы, АГС, СПГ, РПГ. Одна из позиций, в районе дач была окружена боевиками. Огневой контакт с противником шел на расстоянии нескольких метров. Чтобы отбить атаку - бойцы вызвали огонь на себя. Вот короткое видео для тех, кто все еще не верит, что в его стране идет война. Полная версия - позднее.Проект «Повернись живим»Приват: 5457 0822 3299 9685 Дейнега ВіталійВсі реквізити і контакти тут: https://goo.gl/FX2wYg

Опубликовано Повернись живим 23 марта 2016 г.