Militants shell Avdiyivka outskirts with incendiary mines, civilian woman killed
The pro-Russian militants started using incendiary mines while shelling the industrial and suburban areas at the outskirts of Avdiyivka in Donetsk region, according to the press center of the Anti-Terrorist Operation.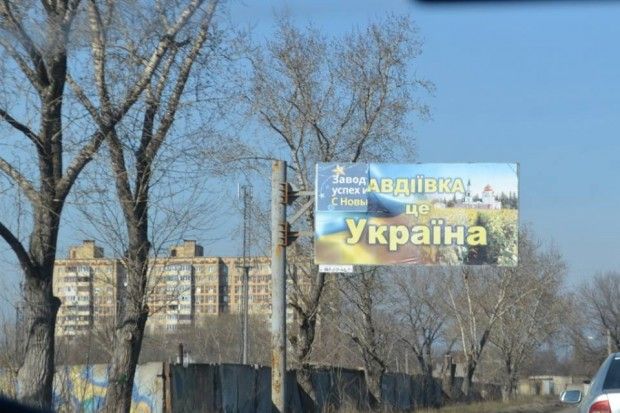 Militants continue to shell the area in southeast Avdiyivka / facebook.com/ato.news
"Smoke is tight over the area around the industrial zone of  Avdiyivka. Suburban summer houses are on fire as well as gardens and grass. Pro-Russian illegal armed groups continue to fire on positions of Ukrainian troops in the area, but now with the special, incendiary, mines," reads the statement.
The ATO Headquarters noted that by using such mines, the militants are deliberately and cynically destroying property of civilians.
"They also want to cause outrage among local residents, trying to present this as the actions of the Armed Forces of Ukraine. But these are provocations of mercenaries, because the real miners would not have burned the property of their fellow citizens.. In the day time, people see well: who is shelling the city and from what directions," the message says.
In turn, Head of the Main Police Department in Donetsk region Vyacheslav Abroskin wrote on Facebook that civilian woman was killed in a militant shelling of Avdiyivka.
Read alsoLuhansk authorities close only working checkpoint due to militant fire"A couple of hours ago, the militants hot Avdiyivka with artillery, killing a woman, born 1945. She was out in her garden on her property on 15 Kuibyshev Street," he wrote.
Read alsoMilitants occupy southern outskirts of Avdiyivka – Ukraine intelAs reported earlier, the Ukrainian intelligence reported on Russian-terrorist forces having strengthened their forward units in the area of the industrial zone in Avdiyivka.
Head of the Security Service of Ukraine Vasyl Hrytsak reported that the SBU officers shot down the Russian Army's UAV Orlan-10 in Avdiyivka.
If you see a spelling error on our site, select it and press Ctrl+Enter