OSCE: DPR members threaten monitors at gunpoint near Lukove
The OSCE Special Monitoring Mission has reported that its observers were planning to follow tracks made by infantry fighting vehicles driven by DPR militants near the city of Donetsk, but were stopped and threatened.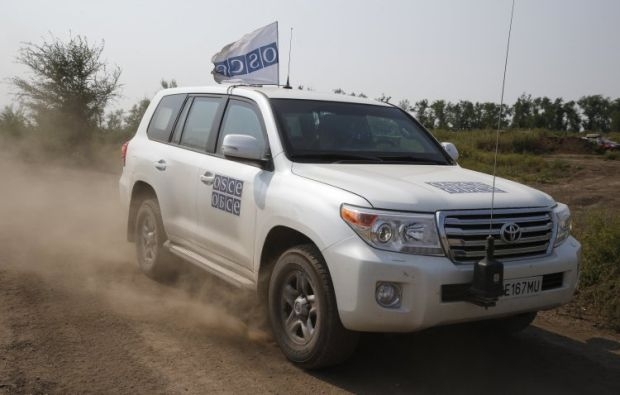 Photo from UNIAN
"The SMM saw fresh tracks, caused by an infantry fighting vehicle leading south from "DPR"-controlled Lukove, 72km south of Donetsk. At 13:47, while following the tracks, the monitors were stopped by two armed "DPR" members who blocked the road with a camouflaged-style jeep (vehicle #1) and pointed their guns at the SMM. They ordered the SMM to leave the area, which they did," according to the mission's spot report.
"At 13:49, when leaving the area, a second camouflaged-style jeep (vehicle #2), approached from a side road at high speed, nearly hitting the lead SMM vehicle, and came to an abrupt stop in front of the patrol, blocking its way. At the same time, the two armed "DPR" members in vehicle #1 blocked the SMM from behind. Three armed "DPR" members jumped out of vehicle #2 and pointed their guns at the first SMM vehicle in an aggressive manner and screamed at the driver to open the vehicle's door. One "DPR" member then made a "cut throat" sign to the SMM and took photographs of both SMM vehicles and the drivers."
It is reported that the monitors were ordered to follow the "DPR" members to a checkpoint in Prymorske, 76km south of Donetsk, 5km south of Lukove. One of the "DPR" members in vehicle #2 kept his gun pointed at the SMM for the duration. At this point, the patrol called the SMM Regional Security Officer, who in turn informed the Joint Centre for Control and Co-operation.
Read alsoMinsk talks: Ukraine concerned over militant attacks on OSCE SMM's UAVsAt the checkpoint in Prymorske, nine armed "DPR" members surrounded the first SMM vehicle, yelling obscenities and making threatening gestures, according to those present. One armed "DPR" member stated twice that SMM members should be shot. Another armed "DPR" member twice struck the front left wing of the first patrol vehicle with his rifle butt, leaving two dents.
At 14:00, the SMM was released from the area and returned to its base in Mariupol.
If you see a spelling error on our site, select it and press Ctrl+Enter