Ukraine warns Butivka mine being gradually besieged by hybrid forces
23:51, 30 September 2016
War
The hybrid military forces in Donbas take advantage of the ceasefire and are now setting their firing points very close to the Ukrainian positions in an attempt to form a semicircle around the Butivka coal mine, according to Ukraine's TV news service TSN.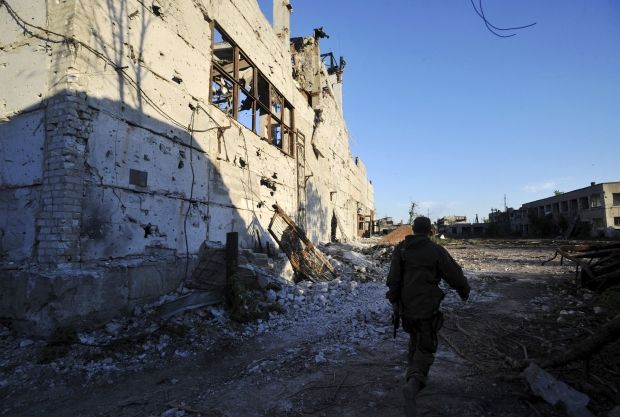 REUTERS
The enemy has long ago determined its targets at the coal mine, and there are actually no safe positions there, TSN said.
Some Ukrainian positions regularly come under enemy crossfire, while Ukrainian troops are banned from firing back because they should abide by the recently agreed ceasefire.
Read alsoUkraine reports 29 attacks on its troops in Donbas in last dayOnly traces of bullets on the left walls demonstrate how intensive firing is near the Butivka coal mine: the distance between holes in the walls is not more than 10-12 centimeters.
Read alsoOSCE chief monitor lists "hottest spots" in DonbasButivka is being mercilessly attacked even when other positions see a truce.
A Ukrainian soldier whose nom de guerre is Sam says that the firing point he is defending now is being slowly encircled by the enemy.
"They've started to regularly open fire at eight o'clock. Four positions have been built – and that's all. [Machine-gun] tracers are flying all night long so that nobody could even lift the head to see where they come from," he said.
These are just a few remaining concrete slabs – this is where the Ukrainian defenders of the Butivka coal mine can hide themselves from enemy fire, TSN said.
The Ukrainian soldiers who are defending the mine can withstand heavy attacks, and not long ago they were able to post a new Ukrainian flag – it is much bigger than the previous ones and is flying higher, the television news service said.
If you see a spelling error on our site, select it and press Ctrl+Enter