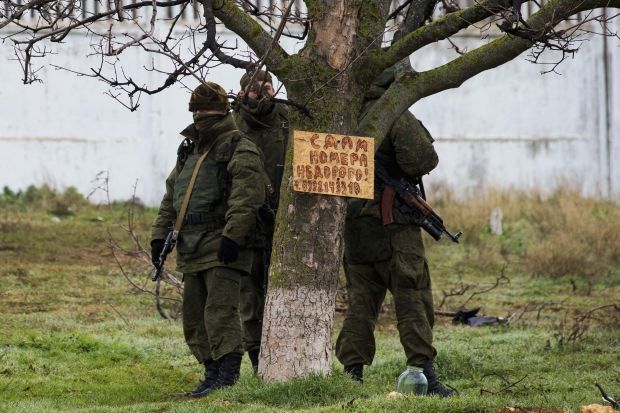 TSN
Locals in Russia's Rostov oblast can reportedly always tell you when soldiers are being sent to Ukraine because of the queues in the nearby hypermarket 'Lenta'.  Those on their way to Ukraine stock up with various items.  Those men who return alive can also be easily identified by the long queues outside the cash machine, as they all hurry to take out the money they're paid for this unofficial 'assignment', Ukraine Today reports.
On his Ekho Moskvy programme, Russian journalist Sergei Parkhomenko spoke of how Russia is increasingly seen as an aggressor.  He mentioned last week's Parliamentary Assembly of the Council of Europe's Resolutions, one of which is even entitled 'The political  consequences of Russian aggression in Ukraine'.  No hiding behind terms like 'separatists', or 'bandits'.  This, he says, is what Russian President Vladimir Putin has achieved.   
Read alsoVolunteer recon discover Russian armour in 'demilitarized' area (Photo)It was achieved despite the secrecy, the pressure on soldiers and their families, and a totally unconstitutional presidential decree which classifies as secret any information about losses in peacetime. Human rights activists have challenged the authorities to explain the sharp increase in military deaths from the beginning of 2014 to mid-2015, but without any success.
The locals in the Rostov oblast probably wouldn't write an article, but they saw no reason to conceal from Parkhomenko how the queues told them immediately whether soldiers were being illegally sent into Donbas, or sent home.
Read alsoDrones spot another large concentration of Russian weaponry in Donbas (aerial photos, video)He learned of other things during his visit, including the regular instructions to farmers and state agricultural cooperative workers to remember that they never saw any military technology on their fields.
There is also the city cemetery reported earlier, with a huge number of fresh graves with only the letters 'NM', signifying the Russian for 'unknown male'. 
A young Russian officer recently told him that he wanted to go to Syria, and not to Ukraine.  The reason is simple.  Russia is not (totally) concealing its involvement in Syria, and they'll give you documents. 
With Ukraine, the officer said, it's different.  After you agree, with this only verbal agreement, you get a formal transfer to Novocherkask.  From there "you disappear", with no more paperwork.  They change your uniform, remove any 'incriminating' insignia and take away your documents.  
If you come back, the documents are presumably returned.  If you don't, then you're left to lie in an unmarked grave.   
Read alsoSpiders in a jarParkhomenko's account coincides with other evidence, including from Russian soldiers who preferred to be tried for going absent without leave rather than be forced to fight in Donbas. 
In October 2015 four Russian contract soldiers  from the No. 22179 Military Reconnaissance Brigade in Maikop were sentenced to terms of imprisonment effectively for refusing to fight in Ukraine.  Alexander Yenenko, who had been most forthcoming in talking with Novaya Gazeta and other media, received the longest sentence.  Another soldier Anatoly Kudrin had received a 6-month sentence in July that year.  All of them had gone absent without leave (AWOL) in the autumn of 2014, when the fighting in Donbas was still fierce. They had been sent to Rostov and put under heavy pressure to 'volunteer' to go to Ukraine, with up to 8 thousand roubles (around EUR 110) a day on offer.  Many of them tried to resign, but had their resignations simply ignored.  
Read alsoOSCE reports access denial in Stanytsia Luhanska disengagement areaOne of the young men 27-year-old Pavel Tynchenko issued a statement to the Maikop military court explaining that "I did not carry out a criminal order since I did not wish to go against the oath which I took and did not want to take part in military action on Ukrainian territory. I would ask that this is added to the court's ruling".
Russia has resorted to grotesque efforts to conceal the deaths of Pskov paratroopers in Ukraine, as well as other soldiers.  Human rights activists and journalists like Lev Schlosberg and Ludmila Bogatenkova have faced attacks and hate campaigns, or actual criminal prosecution.  The intimidation helps to keep the information about of the main pro-Kremlin media, probably not to seriously convince anybody.