FP: International monitor quietly drops drone surveillance of Ukraine war
21:53, 30 October 2016
War
The European security organization tasked with monitoring deadly violence between government forces and Russian-backed separatists in eastern Ukraine has lost its most effective surveillance tool in the conflict: long-range unmanned aerial vehicles, or drones, according to the Foreign Policy (FP) website.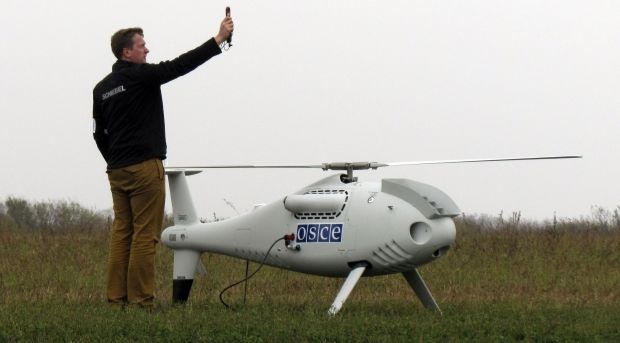 REUTERS
"The long-range drone program was crucial for spotting armed attacks, the stationing of prohibited weapons, and countless other cease-fire violations. But it was nixed two months ago, Foreign Policy has learned, after several of the aircraft were targeted by surface-to-air missiles and military-grade electronic jamming," senior reporter at Foreign Policy John Hudson wrote in the article titled "International Monitor Quietly Drops Drone Surveillance of Ukraine War," published on October 28.
"Long-range UAV operations were suspended in August following a series of hostile acts," said Natacha Rajakovic, a spokeswoman for the Organization for Security and Cooperation in Europe (OSCE), the group authorized by world powers to observe the conflict. "The mission's UAV strength has been severely undermined."
The OSCE would not assign responsibility for the drone downings, citing a lack of access to the crash sites. Senior U.S. and Ukrainian officials accused Russian-backed separatists of targeting the UAVs to conceal their actions. Russian officials declined to comment for this report after several requests, but Moscow has repeatedly denied involvement.
Read alsoU.S. Mission to OSCE: Russia continues sending troops, equipment into UkraineThe OSCE's decision to suspend the drone program, which has not been previously reported, creates a major blind spot for the organization. It also raises questions about how a cease-fire can ultimately take hold without a capable third party to call out violations.
The long-range drones were often the only way to monitor the most contested and violence-prone areas in Ukraine's two-year conflict. During the day, unarmed OSCE ground patrols are frequently denied access to hot spots by the warring parties. At night, they are required to decamp to hotels away from the fighting. The OSCE's Camcopter S-100 drones solved both problems, lurking over restricted areas in the daylight and using infrared cameras to capture violations after sundown.
Read alsoOSCE monitors in Donbas: Camera in Shyrokyne records 27 MLRS projectiles on Oct 21"The long-range drones were the most important monitors," a former senior OSCE official told FP. "They catalogued countless cease-fire violations, as well as the stationing and movement of prohibited weaponry."
But their effectiveness also made them a target for belligerents looking for an edge over opponents without notice.
Read alsoMilitants shoot down OSCE drone near HorlivkaIn May, an S-100 drone flying over rebel-controlled Ozerianivka crashed shortly after spotting a surface-to-air missile system mounted on top of a multi-purpose tracked vehicle. OSCE workers chose not to inspect the site of the crash after being informed by Ukraine's military and rebel separatists that "the area was mined," according to an OSCE spot report.
One week later, another S-100 drone was downed while flying over rebel-held Korsun northeast of Donetsk. The day before the crash, the drone spotted an anti-aircraft gun and surface-to-air missile launcher in the area.
Read also2 OSCE SMM's UAVs come under fire in Donbas, another one downedOther crashes point to the use of electronic warfare to take down aerial monitoring equipment. On July 25, the OSCE lost all communication with a long-range drone before it plunged to the ground mid-flight. Three days later, OSCE cameras photographed an R-330ZH Zhitel communications jamming system, which is designed and manufactured in Russia, in rebel-held Novohryhorivka near Donetsk.
The former OSCE official said the drones captured images that rebels didn't want publicized. "The fact that the rebels brought in state-of-the-art electronic jamming equipment attests to the capability of the drones," said the former official, who spoke on condition of anonymity.
Publicly, OSCE officials maintain that both sides in the Ukraine conflict are responsible for cease-fire violations, though their reports often provide clues to show who's responsible for a given incident. The organization's careful diplomatic language is a result of its diverse membership: The 57-nation group includes chief adversaries Ukraine and Russia and makes decisions by consensus.
The group's mandate is to monitor the conflict, not to keep the peace. Its unarmed monitors, most of them European diplomats, are authorized to record cease-fire violations, escort shipments of humanitarian assistance, and help broker local truces. The group reports dozens to hundreds of cease-fire violations every day, according to the New York Times, patrolling bumpy roads in armored Toyota Land Cruisers.
Despite clearly lacking key resources for peace monitoring, the OSCE's mission is viewed as essential to ending the fighting as prescribed by the 2015 Minsk accords forged by Ukraine, Russia, France, and Germany. As the only third party standing watch along the line of control, the OSCE's presence serves as a deterrent to major military flare-ups and civilian deaths.
Acknowledging the problem, Rajakovic, the OSCE spokeswoman, said the mission is working on "negotiating a new service contract and is hoping to resume long-range UAV operations as soon as possible." But it's unclear when that might happen.
If you see a spelling error on our site, select it and press Ctrl+Enter