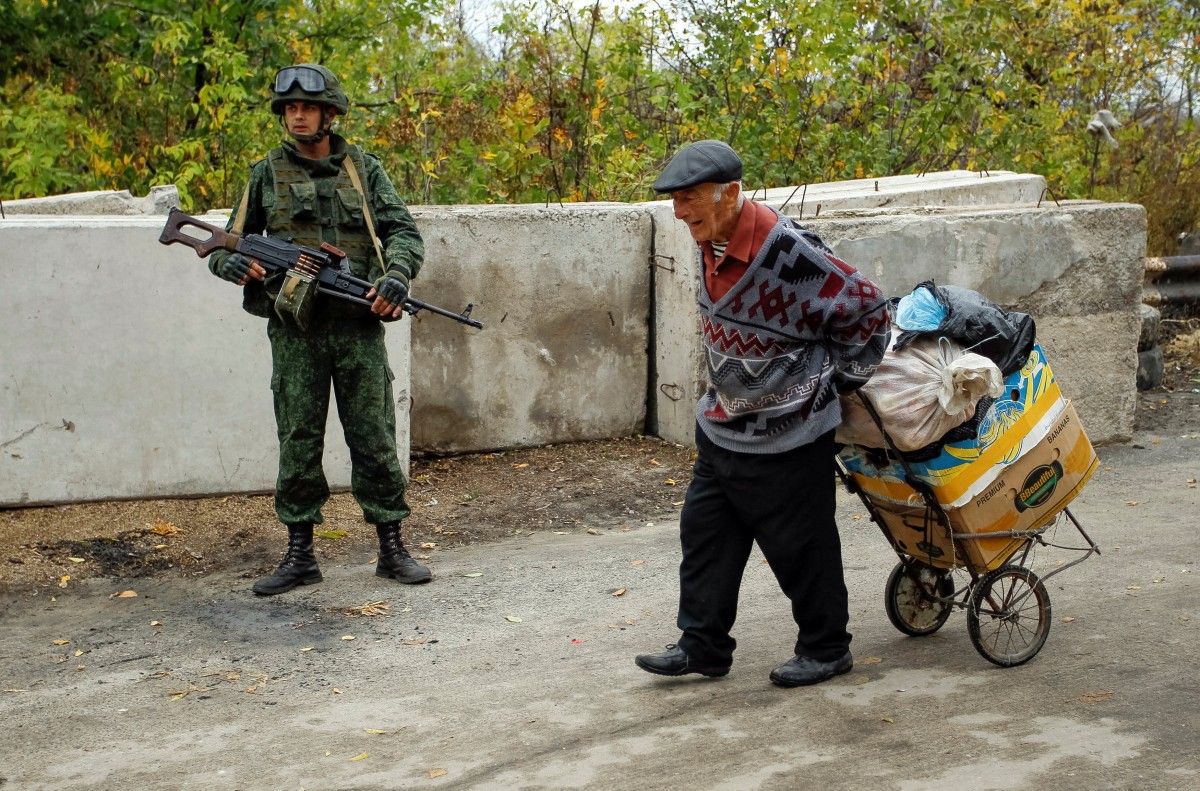 REUTERS
"They will create a picture for Russian-backed media by staging mass rallies, where they will bring people from different towns and villages. The occupiers will use military equipment with Ukraine's insignia on the sides and yellow-and-blue flags, [they will be] dressed in Ukrainian army uniform in an attempt to discredit the Armed Forces of Ukraine and the Minsk agreements," the ATO HQ said on Friday.
The ATO HQ warns there may be casualties among civilians, therefore local residents need to be very cautious, as the militants will "go to every expedient not to let peace return to Debaltsevo."
Citing own HUMINT reports, international OSINT community InformNapalm said that militants from the self-proclaimed Donetsk People's Republic (DPR) terrorist organization plan to engage from 2,000 to 4,000 people in the rallies.
According to InformNapalm, the scenario of the campaign is to bring as many people with anti-Ukrainian slogans and posters as possible to "show" that residents of Debaltseve are against the return of the town under Ukraine's control, which is stated in the Minsk peace agreements on Donbas.
HUMINT agents do not rule out that militants may dress themselves in civilian clothes for a crowd scene.
The de-facto authorities are also said to be using ambulances and emergency situations units on sites of the mass rallies. Anti-terrorism specialists warn that crowds of people to be gathered in one place at one time may become an easy target for terrorists.
"Every Russian information operation is based on creating a 'newsworthy' event – an accident, disaster or an act of terrorism which special 'journalists' are ready for in advance," InformNapalm wrote. "What we see today is an attempt to stage a new tragedy aimed at further escalation in Donbas."
Debaltseve was occupied by Russia on February 17, 2015, shortly after so-called Minsk Agreements II were signed on February 11-12, 2015.
InformNapalm shares a theory that the Debaltseve campaign scheduled for November 26 may be aimed at sabotaging a recent decision on the disengagement of forces and military hardware in Donbas, in keeping with which Ukraine should retake Debaltseve.
Read alsoKyiv says further disengagement in Donbas possible after Debaltseve demilitarizedAs UNIAN reported earlier, representatives of Ukraine at a recent round of the Minsk peace talks on Donbas insisted that further disengagement of forces and military hardware in the east of Ukraine could be possible only after the demilitarization of the militant-held town of Debaltseve.
The Information Resistance group previously reported it had information that DPR militants had started to spread rumors that in early December, the combined Russian-separatist forces were planning a large-scale offensive in the area of Debaltseve, the Ukrainian-controlled town of Avdiyivka and in the Mariupol sector in Donetsk region.