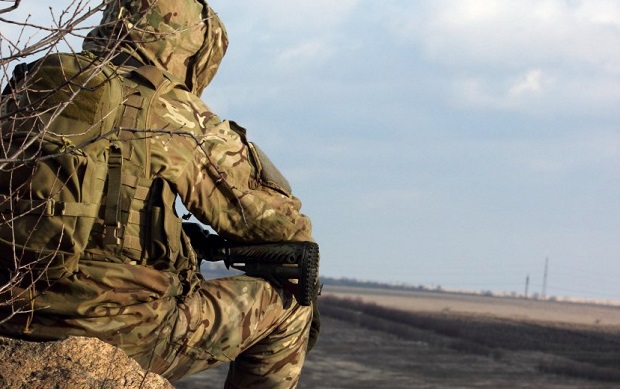 Members of the 54th mechanized infantry brigade have been repelling new attacks at Svitlodarska Duha / Photo from UNIAN
By Sunday evening, the intensity of shelling had increased, and the number of wounded Ukrainian soldiers had grown to 26 men, zn.ua reported with reference to TV news service TSN journalist Yevhenia Tsvetanska, who is near to Dnipro-based Mechnikov hospital. Wounded Ukrainian soldiers participating in the Anti-Terrorist Operation in eastern Ukraine are admitted to this hospital, as it is the largest clinic in the immediate vicinity.
Four wounded soldiers are still on the battlefield as they cannot be evacuated because of heavy artillery fire. Doctors in Dnipro have been informed that they should be ready to handle new wounded soldiers.
Meanwhile, Ukrainian journalist Yuriy Butusov wrote on Facebook on Sunday evening with reference to his own sources that a joint detachment from various units of the 54th mechanized infantry brigade of the Armed Forces of Ukraine had been repelling new attacks at Svitlodarska Duha. The adversary deployed several batteries of 152mm, 122mm and 120mm artillery systems that are banned under the Minsk peace agreements on Donbas.
"The heaviest attacks of the Russian artillery are aimed at the villages of Myronivske and Luhanske in our immediate rear. Myronivske has been cut off power grids. In the area of height 220, the enemy has advanced tactical reserves – two units of armored vehicles. The enemy isn't launching an offensive at the moment, but shelling continues," he wrote.
According to Butusov, the number of WIA's is 25, while there are six KIA's already. Some of the wounded have already been rushed to the hospital in Dnipro.
Read alsoUkraine army casualties in two-hour battle on Sunday: 5 KIA's, 6 WIA'sAs UNIAN reported earlier, five Ukrainian soldiers were killed in action and six were wounded in action during a militant attack on Sunday, December 18, on their positions near Svitlodarska Duha in eastern Ukraine.