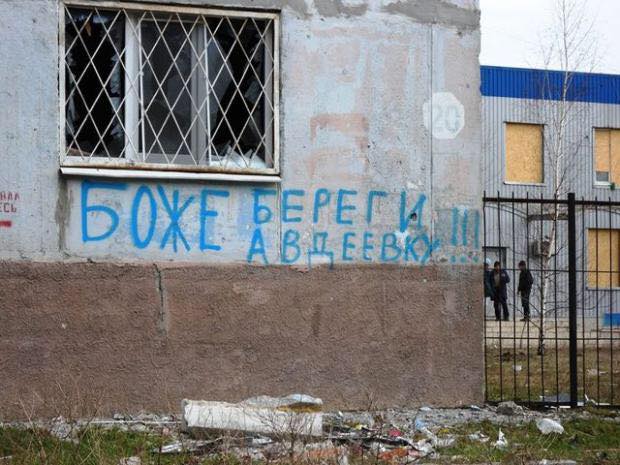 facebook.com/LarysaSargan
"The invaders are not even stopped with the fact of losses they have sustained as a result of the attempts to seize Ukrainian positions," the report reads.
At the same time, the press service of the 72nd Guards Motorized Rifle Brigade wrote on Facebook that the militants took advantage of a short ceasefire and attacked the positions of the Armed Forced of Ukraine (AFU) near Avdiyivka: "An hour ago, the enemy requested a truce and, taking advantage of the calm, launched an attack. The attack was repulsed, and the enemy stopped. The battle is still ongoing." 
Read alsoRussians guarantee 7 hours of "silence" in Avdiyivka, local authorities set to evacuate residentsHead of the Donetsk military and civil administration Pavlo Zhebrivskyi has confirmed on Facebook that one unit of Russian militants opened fire and went on the offensive near Avdiyivka.
"At first they [militants] asked for ceasefire, but they regrouped and went on the offensive ten minutes later. The commander of the 72nd Brigade told me that our forces repulsed the attack. Several militants were killed, among them a terrorist with nom de guerre 'Consul'. Now the battle is ongoing," he posted.
As reported by the press center of ATO headquarters, Avdiyivka remains one of the hottest places along the demarcation line. As of 4:00, Russian occupants released on the Ukrainian positions over 80 missiles from BM-21 Grad MLRS and 30 artillery shells of 152 mm caliber. The enemy also fired 120mm, 82mm mortars, tanks and small arms.
Read alsoMilitants fire Grads on Avdiyivka from residential areas in Donetsk (video)"In addition, the occupants overnight made another attempt to storm the AFU positions, which was repulsed," the statement said.
As reported earlier, the Russian side has provided a guarantee to the Joint Center for Coordination and Control (STSKK) on a seven-hour ceasefire near Avdiyivka, from 10:00 to 17:00.
According to the ATO headquarters, January 29, the invaders repeatedly tried to storm the Ukrainian positions near Avdiyivka, and were forced to retreat, having suffered losses.
Read alsoUkraine's foreign ministry: Russia grossly violates 1949 Geneva Convention in DonbasThe Ukrainian intelligence reported that the ATO forces yesterday eliminated 15 and wounded 24 militants in the industrial area of Avdiyivka. However, five Ukrainian soldiers were killed, nine wounded and four injured in the ATO zone over the past day. Further, three Ukrainian soldiers were killed, 24 wounded as a result of enemy attacks on Avdiyivka in 24 hours. The town was left without electricity.