Photo from UNIAN
Examples of such threats have been posted on social networks, Interpretermag.com reported.
Translation: #Avdiyivka look what SMS messages are coming in:
"Ukrainian soldier, you're all just meat for your own commanders."

Another pair of messages via Pyotr Dudnik on Facebook: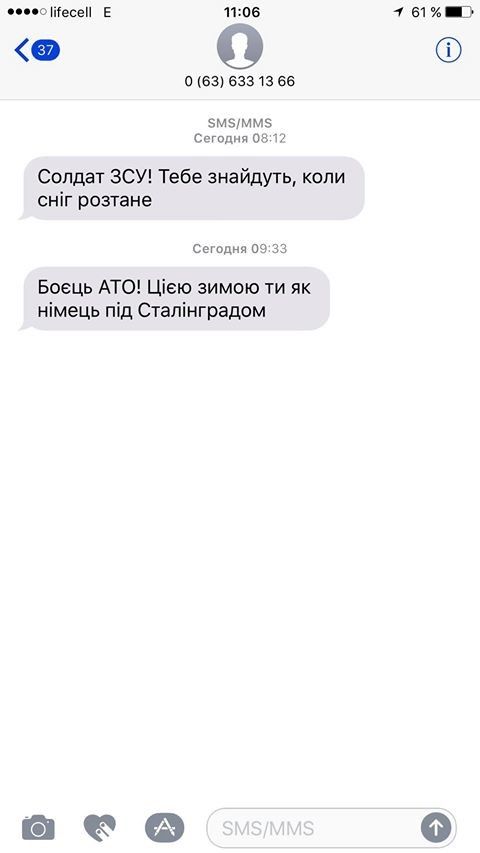 Pyotr Dudnik / Facebook
Translation:
"Soldier of the Ukrainian Armed Forces, they will find you when the snow melts."
"ATO fighter, this winter will be for you like the one for the Germans outside Stalingrad."
As some have already noted on Twitter, the broadcasting of such messages is likely performed by Russian electronic warfare units.
During the battle for Debaltsevo, which ended with Russian regular forces taking the city on February 18, 2015, Ukrainian servicemen received numerous SMS messages aimed at undermining their morale.
Viktor Kovalenko, an officer in Ukraine's 40th Infantry Battalion at the time, described their use:
During daily attacks in January–February, the Russian-sponsored terrorists used portable cell transmitters to deliver fake and provocative text messages to our mobiles, in order to instigate anger or panic among our troops and destabilize order in our units. For example, on 12 February – on the very day the Minsk-2 peace agreement was signed – many of our servicemen received the same SMS, composed in a Russian criminal-jargon style, declaring that President Poroshenko "betrayed us, thus he should be killed". Another fake message, received at the beginning of February, was addressed to ordinary soldiers, saying that their commander (with no name given) had fled to the city of Kramatorsk, thus "all of us were going to flee tonight as well".
Indeed, the terrorists had been taking control of our cell phones for up to 5–10 minutes, in order to deliver their propaganda messages. Sure, the SMS texts were anonymous and false. And not one of us fled, not one of us left our positions. Many times our unit commanders banned the use of cell phones in the battle zone, but our servicemen's wish to reach relatives was so strong that they often ignored the ban and tried to catch any signal as best they could.
Russian RB-314V Leer-3 electronic warfare systems have been documented in Donetsk and, according to the Russian Ministry of Defense, working in conjunction with Orlan-10 drones, are able to jam GSM mobile communications and broadcast SMS messages.