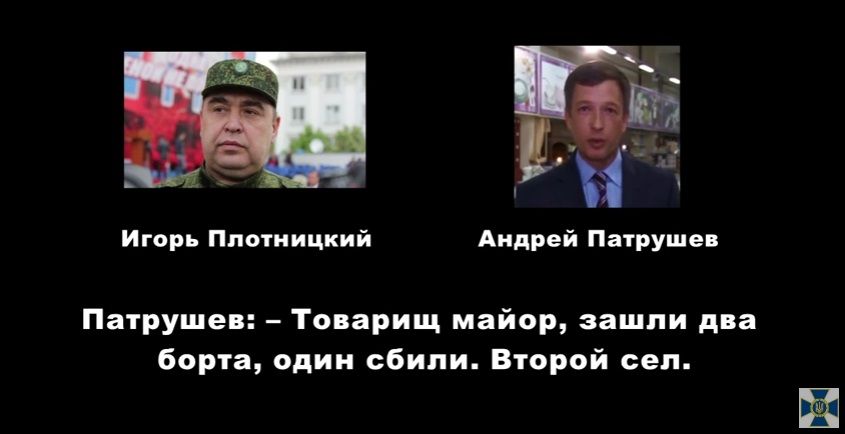 Patrushev: ""Two planes have approached. One has been downed, the other has landed." /Screenshot
"SBU investigators have received clear proof that "LPR" chief Plotnitsky, who at the time of the crime was commander of the Zarya illegal armed formation, together with [Andrey] Patrushev (Plotnitsky's deputy at the moment) and commander of the Vityaz illegal armed formation [Alexander] Gureyev were the mastermind behind the terrorist act," the SBU said on Monday.
With the aim of blocking Ukrainian Anti-Terrorist Operation (ATO) troops, the men set up ambushes and managed terrorists groups armed with portable ground-to-air missiles near Luhansk airport.
The SBU made public the audio recordings of conversations between Plotnitsky and Patrushev, in which the latter says: "Two planes have approached [the airport] … one has been downed, the other has landed."
The other tape has Gureyev saying: "We've hit the Il-76. It must be loaded and sent for recycling as scrap metal."
Read alsoBellingcat: Russia army commander liable for sending Buk to Donbas (Video)The plane was downed in June 2014 when landing at Luhansk airport. Nine crew members and 40 Ukrainian soldiers aboard were killed in the terrorist act.
Dnipro region's prosecutors are seeking the conviction of Plotnitsky and the commanders of two illegal military formations for shooting down the plane. They are charged with committing an act of terrorism under Part 3 of Article 258 of Ukraine's Criminal Code.
The pretrial investigation into the case is over.