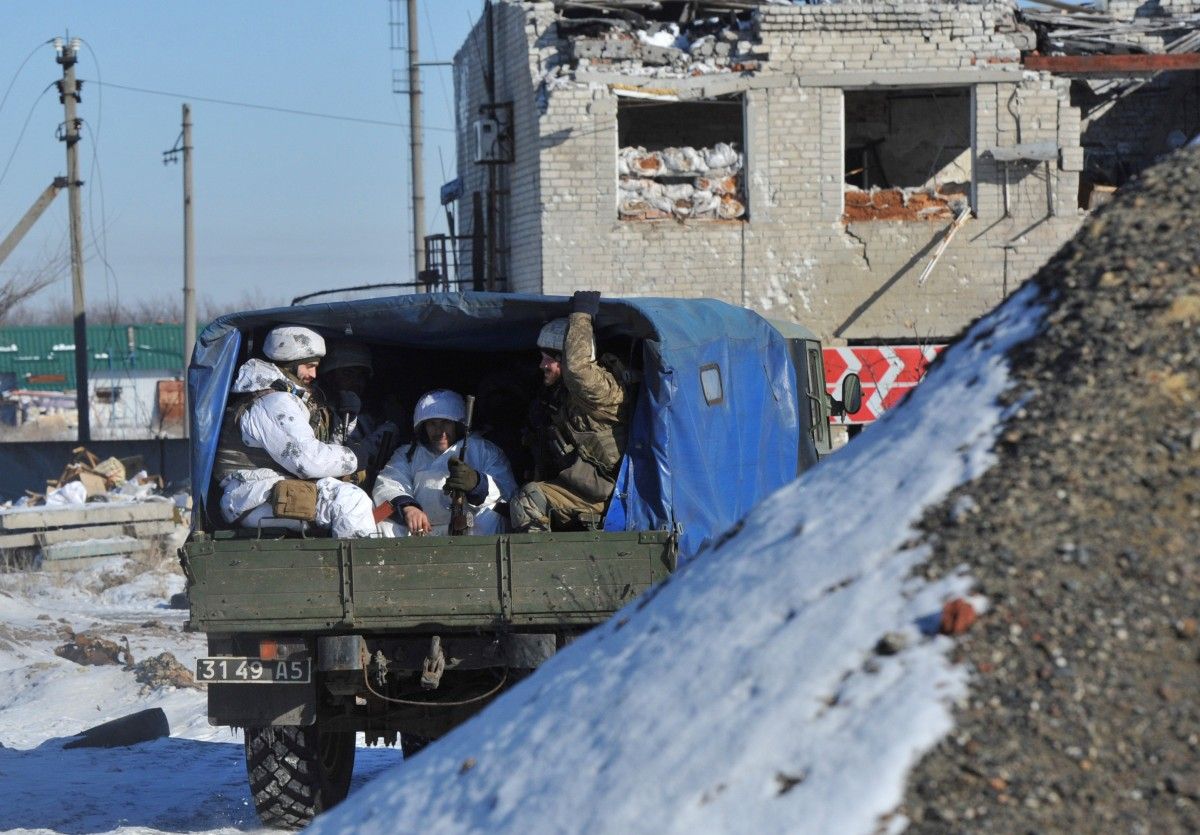 REUTERS
The warning comes amid a recent big upsurge in fighting in Donbass between Russian-backed separatists and Ukrainian forces, EU Observer reports.
The deteriorating security situation in eastern Ukraine, where heavy fighting has resulted in several fatalities, is due to be debated by MEPs and EU foreign policy chief Federica Mogherini in Strasbourg this week.
The debate came at the instigation of ECR Polish member Anna Fotyga, who chairs the parliament's security and defense subcommittee.
Read alsoRada Speaker: If introduced, martial law must cover all Ukrainian territoryTo coincide with the parliamentary debate, Yan Melnikov, a Belarusian volunteer fighter in Ukraine, was in Brussels on Tuesday, February 14, to highlight what he calls the "rapidly deteriorating" humanitarian situation in the conflict zone.
The 23-year-old has spent the last three years supporting Ukrainian forces in Donbas and says that there is "little evidence" that EU economic sanctions against Russia have had any impact so far.
Melnikov said that the recent upsurge in fighting was the result of Russian-backed forces "once again" resorting to the use of heavy artillery which had put civilians at increased risk.
Read also"DPR" militants resort to "human shield" tactics in Donetsk - Bellingcat reportMuch of the shelling and shooting, he said, had come from Russian-backed soldiers in built up residential areas which made it "impossible" for the opposing side to return fire.
Melnikov, who is due to return to the frontline in two weeks, insisted that he had joined the Ukranian forces out of a desire to support freedom and democracy and not for any monetary gain.
"It is clear that sanctions are not working and they need to be intensified, he said, adding that "There is a great hardship in the region and it is getting worse with every passing day. Urgent action needs to be taken to address this."
Read alsoRussian historian names "soft" and "hard" ways to end war in DonbasThe former tailor said he was one of about 300 Belarusians who are fighting in the area and fears that if Eastern Ukraine is annexed by Moscow, as was the case with Crimea in 2015, then his country could be "next on the Russian radar."
"This is the big concern for a lot of my countrymen," he said. "They fear that unless a clear signal is sent to Putin's Russia that the West, including the EU, will not tolerate such aggression, that Belarus could be next."
Read alsoUN: Up to 1mln IDPs live in Ukraine-controlled areasHe went on to say that "there is a danger that this will become a forgotten war so it is important that it is kept on the political agenda and people in Europe know exactly what is going on there."
In a recent speech, Mogherini, the High Representative of the European Union for Foreign Affairs and Security Policy, said that the EU will continue supporting Ukraine by various means.
Read alsoIn first meeting, top EU, U.S. diplomats discuss Russia, Iran, Ukraine – mediaMogherini also added that the EU will continue to support Ukraine with a special focus on the delivery of services to the population, the service which are aimed at the improvement of living conditions for the people.
Ahead of Wednesday's debate in Strasbourg, the EPP, parliament's biggest group, issued a statement saying, "We cannot let East Ukraine become Europe's forgotten war.
"Russia needs to respect Ukraine's territorial integrity and sovereignty within its internationally-recognized borders. In the plenary debate we will call on Russia to withdraw its forces, proxies and weaponry from Ukraine and to honour the ceasefire."