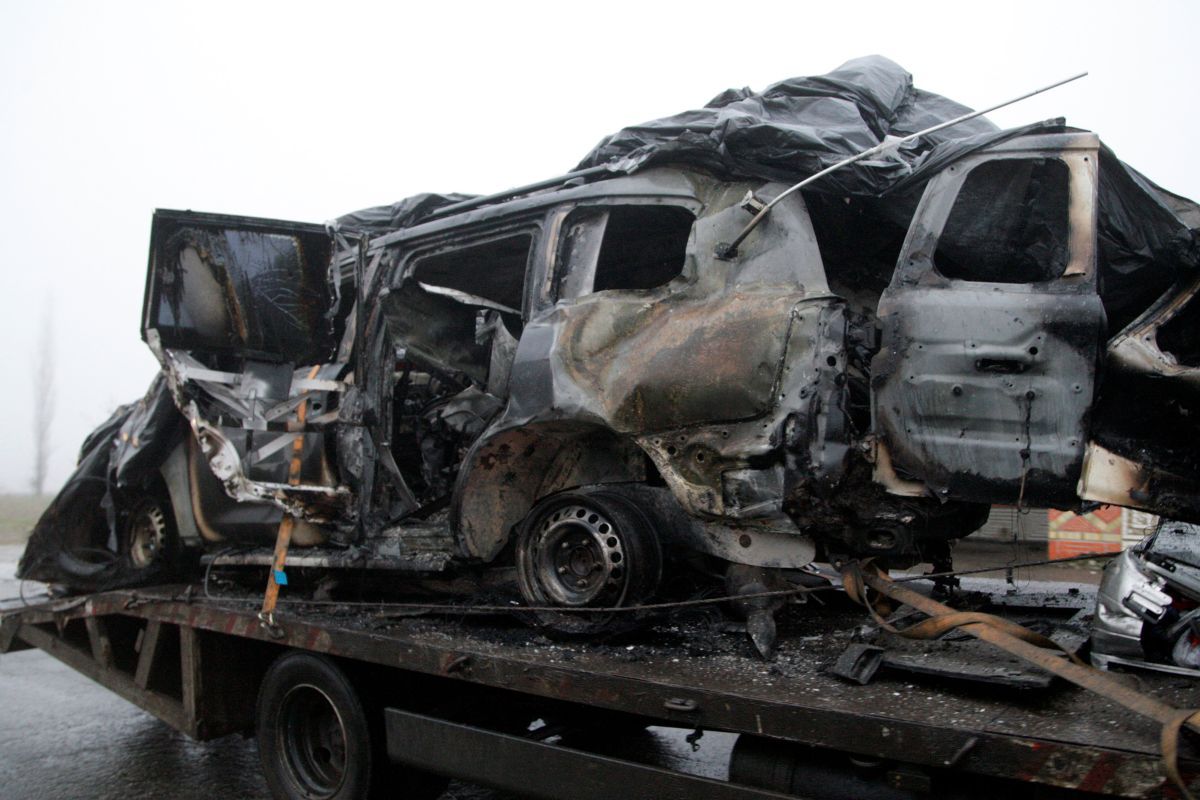 REUTERS
The clip released by RFE/RL captures a fireball and huge plume of black smoke as the second of two marked white cars traveling in militant-controlled territory on April 23 struck what OSCE Secretary-General Lamberto Zannier said was "a mine...left on a road which is also used by civilians."
The video -- filmed from a northerly position and the only one of the incident to be unearthed thus far -- shows the two OSCE SMM vehicles driving east on a secondary road before disappearing behind a row of trees at 11:17 a.m. local time. Seconds later, after the camera is jarred or deliberately moved to follow the cars' route and as the camera focuses, a ball of flames and thick black smoke mushroom above the tree line.
In an extended version of the clip, a third, unidentified vehicle appears nine minutes later heading in the direction of the blast.
The source that provided the video to RFE/RL said the road has been used infrequently by civilians for some time due to its proximity to the front line and military activity around it.
Read alsoOSCE in Donbas: what will change after tragic incident with OSCE SMM patrol vehicleThe death of Joseph Stone, a 36-year-old paramedic, marked the OSCE mission's first death in a 3-year-old conflict that has killed more than 9,900 people as Ukrainian forces battle Russia-backed separatists.
The OSCE has opened an internal probe and launched a criminal investigation into the incident.
Read alsoRT crew arrive at site of OSCE car blast in just three minutes – NGOUkrainian government officials have blamed separatists, who have in turn said Kyiv was responsible for Stone's death.
The six members of the OSCE team were traveling in two armored Land Cruisers near Pryshyb, in the Luhansk region, a town that sits right up against the front line of the conflict.
At an April 28 press conference, OSCE Deputy Chief Monitor Alexander Hug said the route where the vehicle struck the explosive, likely a mine, was a planned route on a secondary road used two hours earlier and the previous day by the monitoring team.
Read alsoRussia uses OSCE car blast for propaganda purposes, attempts to blame Ukraine – mediaHug said the blast was powerful enough to throw the 4 1/2-ton armored Toyota 7 meters away "and fully destroy it."