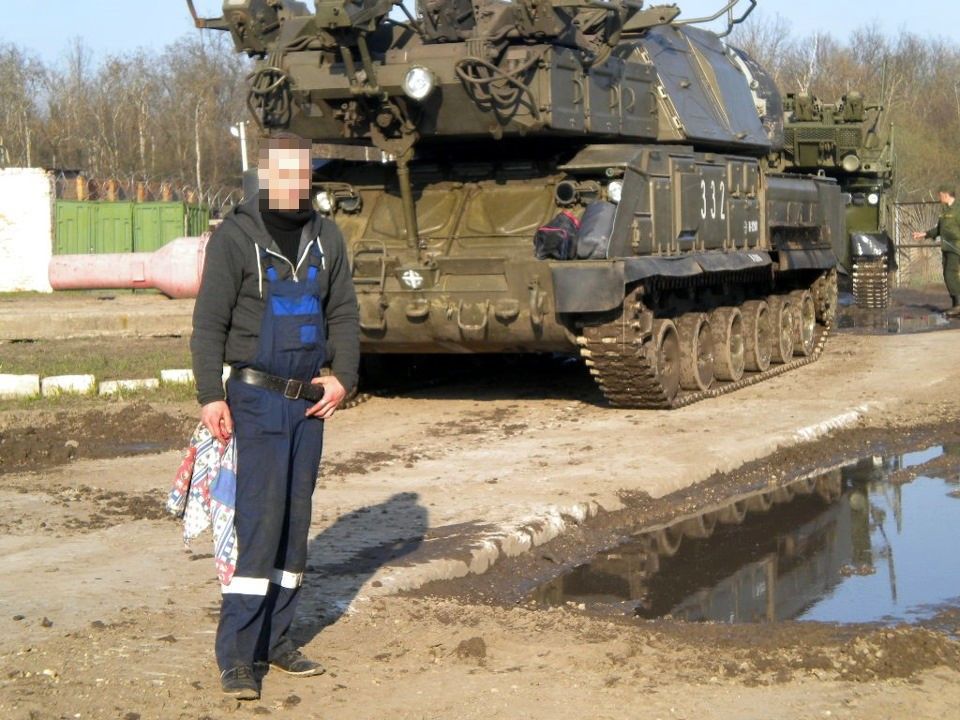 This Buk missile launcher was identified as Buk 332 from the 53rd Anti-Aircraft Missile Brigade  / Bellingcat
"A photograph taken by a Russian mechanic, likely in the spring of 2013, shows Buk 332 with the same white transport markings that were on the Buk while in Ukraine shortly before and after the downing of MH17. This photograph is the last discovered image of Buk 332, showing its non-obscured unit designation and transport markings, before the June 2014 convoy, when the middle digit of its unit designation was painted over," Bellingcat said in its report on June 5.
Read alsoMH17 case: Bellingcat spots possible organizer of relocation of deadly Buk (Photo)According to the report, the white digits, gravity mark, and transport marks in this photograph are in the same location as in photographs and videos of Buk 332 while it was in Russia in June 2014 and in Ukraine in July 2014.
This Buk missile launcher was identified as Buk 332 from the 53rd Anti-Aircraft Missile Brigade (military unit 32406) due to these common features.
Vehicle yard area of the 53rd Anti-Aircraft Missile Brigade, as seen in a photograph uploaded by a cadet on August 3, 2014 / Bellingcat
The mechanic's photograph was taken at a vehicle yard of this brigade, as Bellingcat can determine with the help of another photograph from the same area, uploaded by a cadet in August 2014. This photograph shows the same pink colored Krug missile container, visible in the mechanic's Buk 332 photograph. The photograph is geotagged at the vehicle yard of the 53rd Brigade in Marshala Zhukova, near Kursk in Russia, which is correct after cross-referencing the features in the photograph with satellite imagery.
The mechanic's Buk 332 photograph shows te Buk and the pink colored Krug missile container / Bellingcat
The mechanic's initially discovered photo album was uploaded in February 2015, but doesn't give the mechanic's name or information about when or where the photographs were taken.
RBC journalist Inna Sidorkova was able to contact a person who was involved with the photograph. This person confirmed that the mechanic was in this photograph with Buk 332, and that they recalled that the mechanic was in Kursk in 2013. When asked by the RBC journalist if it could have been in 2014, they replied that "it's possible."
Read alsoBellingcat: Ukraine Buks images geolocated far from ATO, only Russia Buk within MH17 rangeAside from the Buk 332 photograph, the album shows photographs of a S-300 9A85 transloader, a special purpose vehicle (possibly a 9S52 Polyana-D4), and another Buk-M1 missile launcher.
Bellingcat managed to identify the mechanic and located several of his social media profiles. One of these social media profiles shows the Buk 332 photograph, and another social media profile shows two photographs that also are visible in his 2015 album.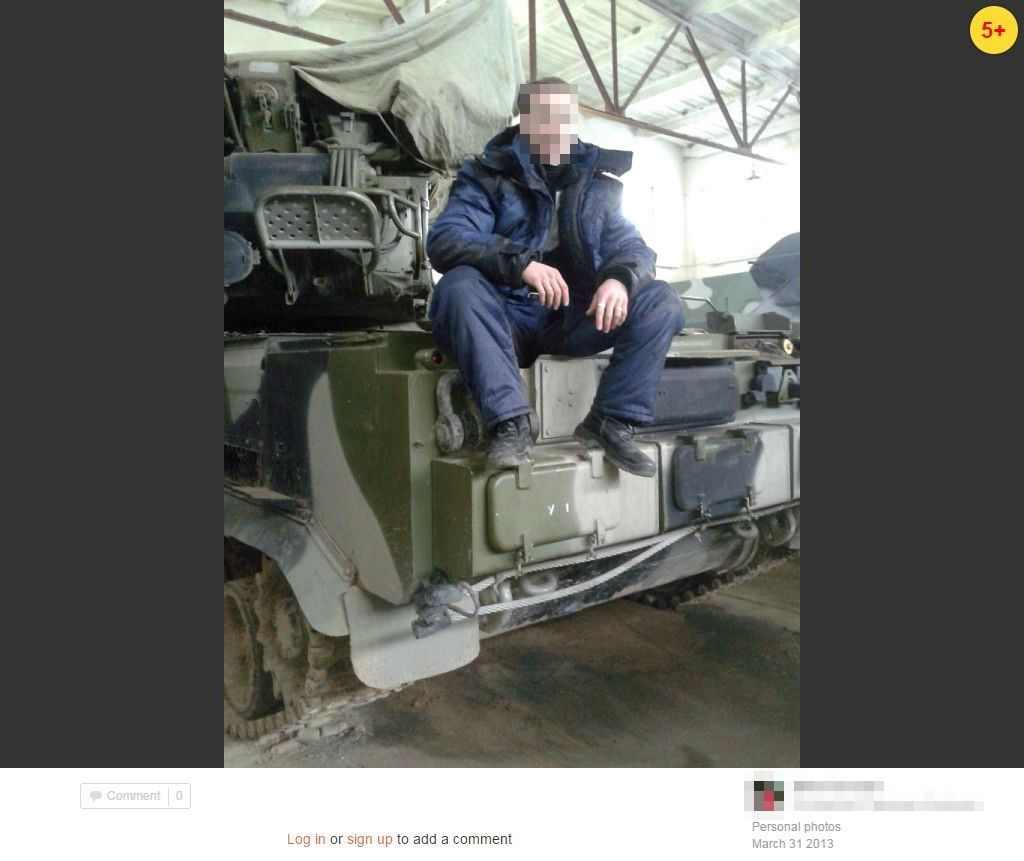 March 31, 2013 photograph from one of the mechanic's social media profiles showing him sitting on a Buk missile launcher / Bellingcat
"These photographs, one showing another Buk missile launcher and the other the special purpose vehicle, were uploaded on 31 March 2013. A third photograph shows a S-300 9A83 missile launcher, uploaded on 20 June 2013. Other photographs before 31 March 2013 or after 20 June 2013 do not show his work as mechanic of military equipment. These photographs, including the Buk 332 image, were very likely taken around the same time in spring and the early summer of 2013. With these photos all being in the same 2015 album, the non-obscured unit designation number, and the information received by RBC journalist Inna Sidorkova, it is clear that the photograph was almost certainly taken in 2013, but there is a remote possibility that it was taken in spring 2014," Bellingcat wrote.
UNIAN memo. Malaysia Airlines' MH17 Boeing 777 heading from Amsterdam for Kuala Lumpur was shot down on July 17, 2014, over militant-occupied territory in Donetsk region. All 298 people on board who were citizens of 10 countries were killed in the crash. The majority of the victims, 196, were citizens of the Netherlands. The Dutch Safety Board October 13, 2015, issued a report on the causes of the accident. It was revealed that the plane had been shot down by a Buk anti-aircraft missile system. The Joint Investigation Team in its report published on September 28, 2016, confirmed that the plane had been downed by a Russian-made Buk brought to Ukraine from Russia.