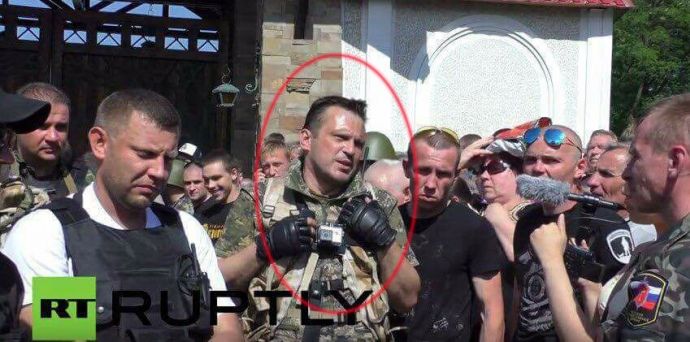 Pogodin was detained in Crimea where he fled to after the murder / Screenshot from RT 
"Russian occupier Vadim Pogodin from the Kerch Battalion who shot dead Ukrainian schoolboy Stepan Chubenko in the east of Ukraine in June 2014 (five bullets to the head, with all teeth knocked out before that) has returned home today. He was freed from a detention center in Simferopol [in Russian-occupied Crimea]. His two other accomplices also avoided the punishment. One has been released, the other is at large," pro-Ukrainian journalist from Moscow Alexander Tverskoy wrote on Facebook on Saturday, July 29.
"Stepan was detained for a [Ukrainian yellow and] blue ribbon on his backpack. Before the murder, the looters took off his sneakers. [They] wrapped [him] in duct tape and shot almost at point blank," he added.
He also posted a screenshot of a post by Gleb Glinka, Pogodin's lawyer, who wrote on Russian "DPR" fighter Eldar Khasanov's Facebook page: "Vadim has been freed!"
"This is the screenshot where the husband of Elizaveta Glinka [notorious "Doctor Liza," Donbas war propagandist who headed NGO Spravedlivaya Pomoshch (Fair Help) foundation and died in a plane crash near Sochi in December 2016] is happy with Vadim Pogodin's release. By the way, it was her and her husband who gave shelter to Pogodin when he fled Donetsk after all his acts of atrocity," Tverskoy wrote.
Pogodin was detained in the Russian-occupied city of Yalta on June 20 at the request of the INTERPOL National Central Bureau (NCB) for Ukraine. He spent some time in custody.
On July 21, the Prosecutor General's Office of Ukraine sent a request to Russian prosecutors for the extradition of Pogodin.
"For some time he was kept in custody, and there was a probability that the criminal would be extradited to Ukraine," Ukrainian journalist and blogger Denis Kazansky wrote in turn. "But the miracle did not happen. Russia did not choose to hand over the murderer of the Ukrainian schoolboy. After all, he killed a Ukrainian. And in 'brotherly people's' understanding – one can kill Ukrainians. In Russia, such killers are called 'anti-fascists.'"
"The Russian newspaper Novaya Gazeta has recently published a material featuring in detail how the 16-year-old resident of Kramatorsk was killed. It is hard to read this article. One can only imagine what poor Stepan Chubenko had to encounter," Kazansky wrote.
"Hundreds, maybe even thousands, have shared such destiny in the occupied areas of Donbas. Many are still listed as missing. The article in Novaya Gazeta claims that 77 persons were reported as missing and 87 corpses left unidentified in Kramatorsk alone after the escape of [chief of the Russian occupation forces in Donbas Igor] Girkin's gang [on July 5, 2014]. One can only guess what had been happening in other towns," he added.
"Incidentally, the mother of Stepan Chubenko, who was killed by the 'Russian liberators,' is a Russian citizen. She moved to Kramatorsk back in the 1990s. This story is terrible," Kazansky wrote.
"Vadim Pogodin and his two accomplices, who shot the boy in the summer of 2014, are now in Russia. And Russia has been hiding these individuals together with Girkin. It is hiding the murderers of a boy with Russian roots! Well, is there anyone willing to say that Russia cares about the Russian population of Donbas?" he wondered.
"Russia was not going to punish Pogodin and extradite him to Ukraine. I had no doubt. The country where the killers sit in the government will not extradite murderers," he added.
Read alsoUkraine asks Russia to extradite Donetsk militant who violently killed pro-Ukrainian teenagerAs UNIAN reported, 16-year-old goalkeeper of the Avangard football club Stepan Chubenko was tortured and shot by "DPR" militants for his pro-Ukrainian position. He studied at Kramatorsk secondary school No. 12, he was fond of sports.
Since 2014, together with friends he had participated in pro-Ukrainian rallies in Kramatorsk. The teenagers cooperated with the Ukrainian military and helped local residents during shelling by Russian-backed illegal armed groups. Risking his life, Chubenko removed the flag of the so-called "DPR" from the town's square.
In June 2014, he was detained by the Russian-backed Kerch Battalion for wearing a Ukrainian yellow and blue ribbon on his backpack. He was taken to the village of Horbachevo-Mykhailivka outside Donetsk where he was shot after torture.
A football tournament was established in Kramatorsk in honor of Chubenko. On May 8, 2016, he was posthumously awarded with a "People's Hero of Ukraine" order. On November 21, 2016, a memorial plaque to commemorate Chubenko was unveiled on the building of the school where he studied.