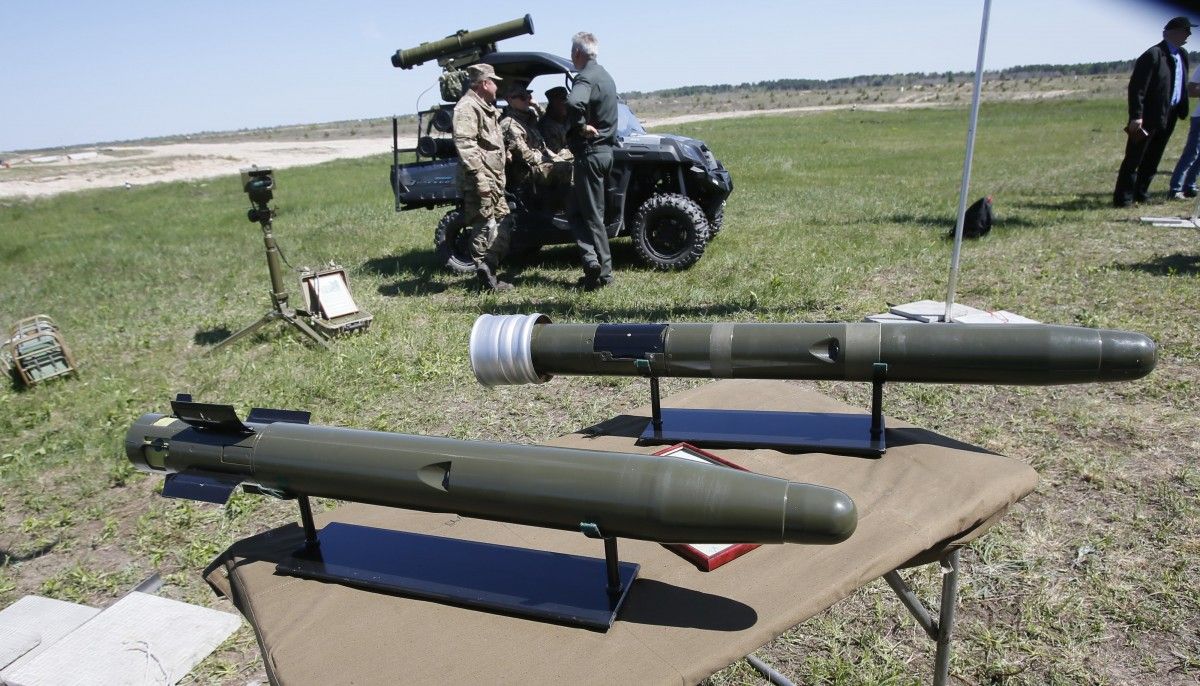 Photo from UNIAN
The "Javelin question" has hung over two White House administrations, with even Ukrainian President Petro Poroshenko himself asking for 1,240 Javelin anti-tank missiles, DFR Lab wrote.
The two largest single battles of the Ukrainian conflict — both of which led to substantial defeats for the Ukrainian Armed Forces (UAF) — were the August 2014 Battle of Ilovaysk and the January-February 2015 Battle of Debaltseve. In both of these battles, Russia deployed hundreds of well-trained servicemen from tank and motorized infantry brigades to operate sophisticated equipment, most notably T-72B3 tanks and, to a far lesser extent, T-90A tanks.
The strongest calls for the transferring of Javelin missiles to Ukraine came during and immediately after the Battle of Debaltseve, in which Russia's tanks and the participation of its 5th and 6th Tank Brigades and 37th Motorized Infantry Brigade led to a rout of Ukrainian forces and the Russian-led separatist capture of Debaltseve, a key railway hub.
Read alsoMcCain "optimistic" over prospects of U.S. lethal aid to UkraineBut the threat of another offensive lingers, and this threat has led to a number of innovations and new lines of production for ATGM launchers in the UAF.
As DFRLab recently reported, Ukraine modernized its military forces with upgrades and increased production rates for ATGM launchers, including the Stugna-P and RK-3 "Corsar."
The Stugna-P was originally developed in 2011 during the Viktor Yanukovych presidency, and is now back in production since the Russian annexation of Crimea and Russia's participation in the war in eastern Ukraine. A video from the defense manufacturer Ukroboronprom shows the Stugna-P in action, 2,000 meters away from its target.
The Ukrainian news site Slovo i Dilo has reported on the Stugna-P, praising how it is manufactured within Ukraine and without any parts from Russia. The 130mm weapon has a higher caliber than that allowed by the Minsk Agreements, thus making its deployment on the front lines a violation of the peace accords. However, ATGMs have received far less attention from monitoring groups than unguided artillery systems have, due to differences in the danger posed to civilian lives and property.
The Ukrainian defense manufacturer Luch has been developing the RK-3 Corsar system for years, with new videos of prototypes of the yet-to-be-deployed system appearing on the manufacturer's social media pages. Luch shared a video of a Corsar prototype in action in July 2017.
With the arrival of Javelins far from a certainty, Luch has focused on how ATGM systems can be made in Ukraine, with Ukrainian components and specifically for the UAF.
The Stugna-P and the RK-3 Corsar ATGM systems were both successfully tested during July 2017 Ukrainian military exercises.
Read alsoWSJ: Pentagon offers plan to arm UkraineSpeaking of potential effect Javelins would have on the ground, the experts say that they would not change the calculus on the front lines, as neither side is currently using motorized equipment to take new territory. In fact, with their entrenched positions and their lack of major movement, both Ukrainians and Russian-led separatist forces are more often using tanks and anti-tank missiles as makeshift artillery, rather than for their primary intended purposes.
There is no shortage of tanks among the Russian-led separatist armaments, but few ever cross the front lines, where they would be most vulnerable to Javelin missiles. Thus, it is hard to believe that the appearance of Javelins on the front lines would give a distinct advantage to the UAF in pushing back Russian-led separatist forces in hotspots such as Avdiyivka or Novoazovsk.
Read alsoArms of Ukrainian victoryJavelin missiles would instead, theoretically, act as a deterrent for future Russian-led separatist offensives similar to those offensives launched in Ilovaysk or Debaltseve.