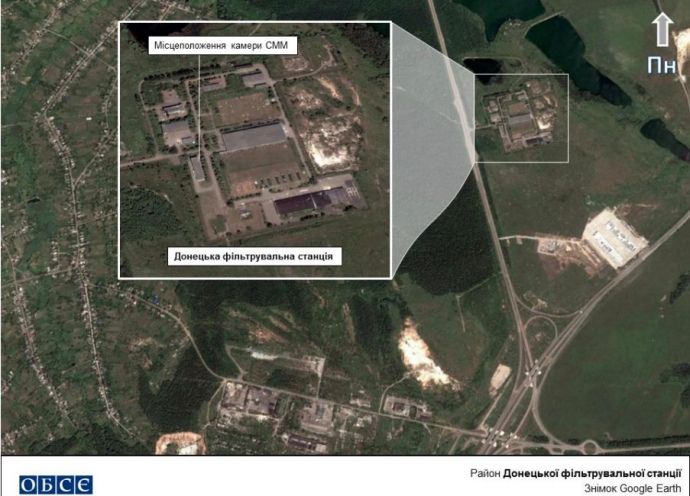 "The SMM removed the thermal camera and replaced the CCTV camera's cable hose. The CCTV camera restarted operations as of 14:00 on 9 August," Ukrayinska Pravda quotes the report as saying.
The mission also informed about the damage to the thermal camera and CCTV that were installed on one of the buildings of the Donetsk Filtration Station.
"On August 8, at 20:20 the SMM lost signal of its newly-installed cameras – one thermal and one CCTV – on the roof of the Donetsk Filtration Station's (DFS) office building.
Read alsoDonbas militants hold OSCE patrol near MariupolOn August 9, an SMM patrol inspected the cameras at the DFS and found out that the thermal camera had been damaged by small-arms fire. The SMM observed ten bullet impacts (five of calibre 7.62mm, two of calibre 5.45mm and three either calibre 7.62mm or 5.45mm) to the thermal camera and four bullet impacts (calibre 7.62mm or 5.45mm) to the camera mast," the report said.
The CCTV camera and the signal transmitter were found intact, but the camera was not operational. The SMM observed two bullet impacts (calibre 7.62mm or 5.45mm) to the CCTV camera's cable hose.
The SMM assessed that all bullets had been fired from a south-south-westerly direction at a distance of 600-800m and from the same altitude as the cameras' location, 10-12m above the ground.
As UNIAN reported earlier, on August 9, the SMM surveillance camera was destroyed just the day after it was installed.
Principal Deputy Chief Monitor of the OSCE Special Monitoring Mission to Ukraine Alexander Hug said then that the camera recorded fire from small arms before it was destroyed.
Read alsoOSCE: Banned weapons used in Donbas more often In recent months, a power transmission line that powers Donetsk Filtration Station supplying water to consumers on both sides of the contact line has been repeatedly damaged as a result of shelling. Parties to the Donbas conflict accuse each other of the shelling.
In April, the OSCE SMM reported that the Donetsk Filtering Station had come under fire over 200 times since the beginning of 2017. It had not operated for 38 days.