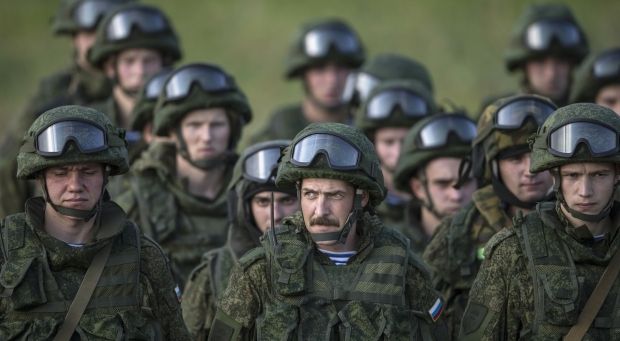 REUTERS
"In fact, we note today that Russia is completing preparations for a big war. Whether it will happen or not – that's a different matter," Badrak said at a press conference in Kyiv on Friday, September 1.
"Why do we think that the threats have increased today, and why do we believe that they have undergone transformation? There is a number of factors that signal this," Badrak said.
According to him, "the relations between the Russian Federation and the United States have deteriorated significantly." In particular, the expert noted the symbolic support of Ukraine and the arrival of the Pentagon chief and representatives of other NATO member states, which caused "frenzied hysteria" in Russia.
At the same time, Badrak believes that in general, "the Western world is happy with the situation when Ukraine is a buffer zone between the West and Russia."
"Europe is aware of this, and especially the Europeans are comfortable with this," he said.
In addition, the expert is convinced that the "attrition warfare" does not give Russia the results that it expected.
Read alsoRussia may use drills in Belarus to create "corridor" to Kaliningrad region – Ukrainian army spox"The presidential election is approaching, and Putin will need some victories in March 2018, certain things that he can give his society to qualify for another victory and continue his 'reign,'" Badrak said.
In addition, he stressed, today the General Staff of the Russian armed forces has a "pragmatic understanding of the weakness of Ukraine's defense potential."
"The evaluation of what has been done in Ukraine in the three years gives grounds to Russian analysts to say that Ukraine is not ready for a large-scale war, for a sudden large-scale strike," Badrak said.
Meanwhile, Russia "has substantially increased its capabilities," the expert said.
"According to our data, those units that are on the front line... the level of equipping these structures, in these units with new weapons, military equipment has reached 58% as of 2016. As of the end of 2017, it was planned to achieve 62% of re-equipment with new systems," he said and noted that this is a very serious challenge for Ukraine.
In addition, according to Badrak, the issue of securing a land corridor for Crimea remains pressing. Any development of military success, if it takes place, will also be a formal achievement for the Kremlin.
"Therefore, the probability of a military operation before the election is quite high," he said.
Read alsoRussia to continue attempts to return Ukraine under its imperial rule - Russian journoBadrak also noted that a military operation "cannot start on its own – Russia needs to create a pretext for this."
"Already today we see very serious work – pro-Russian movements, Russian agents are becoming more active. And in fact, information activity gravitates towards the political sphere," the expert said.
He added that Russia reserves the right to use measures involving force, like terrorist attacks, to influence society and provoke distrust toward the authorities.