Expert explains why Kremlin seeks to replace "leaders" of self-proclaimed republics in Donbas
15:31, 14 September 2017
War
The Kremlin is ready to resort to new tactics to make Ukraine fulfill the political provisions of the Minsk peace agreements on Donbas, according to a Ukrainian expert.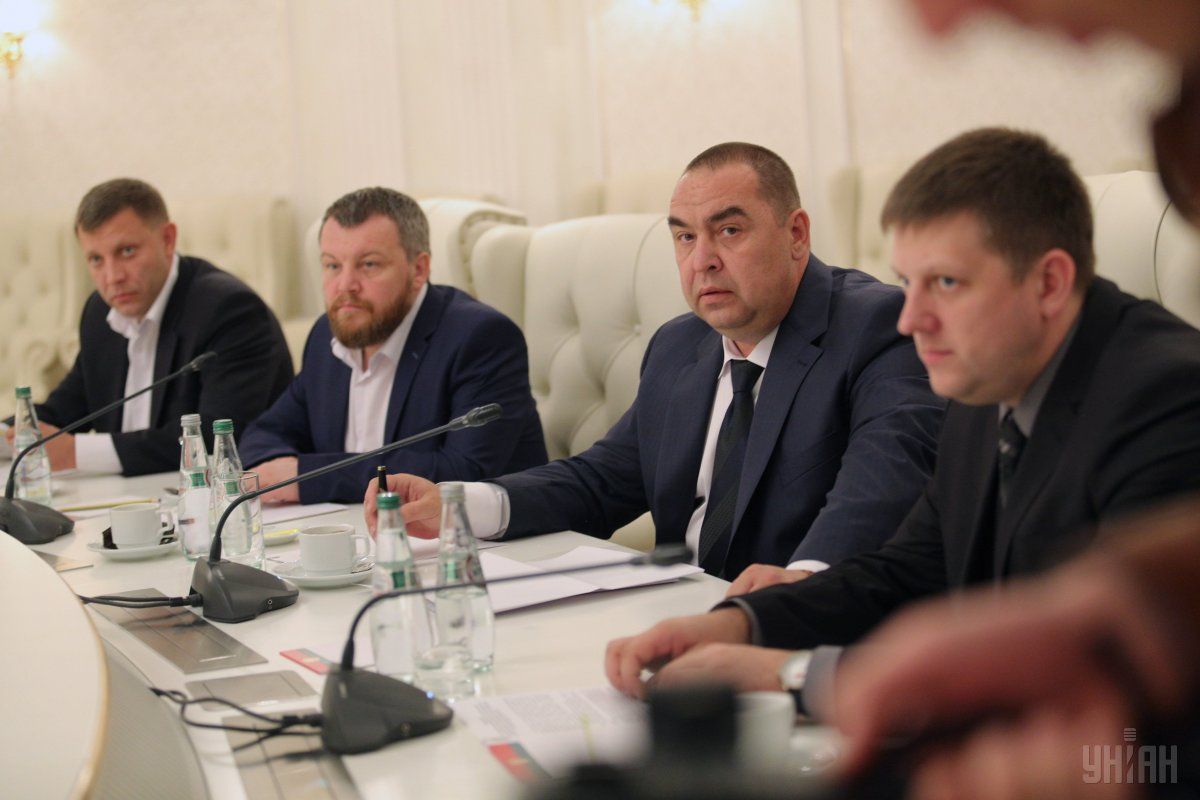 Zakharchenko (first left) and Plotnitsky (second right) at talkes / Photo from UNIAN
Head of NGO Information Resistance Group, military analyst and Member of Parliament Dmytro Tymchuk says that the Kremlin may replace the so-called leaders Oleksandr Zakharchenko of the self-proclaimed Donetsk People's Republic and Igor Plotnitsky of the self-proclaimed Luhansk People's Republic, pursuing one goal: to make Kyiv comply with the political provisions of the Minsk agreements, namely local elections, legalization of the so-called local authorities in Russian-occupied Donbas, the Ukrainian news portal Apostrophe has reported.
"According to our information, there are no details: neither exact names nor certain dates have been announced. October could be tentative timing, but the names of those who they will appoint are not disclosed," Tymchuk was quoted as saying.
Tymchuk says that the events of recent weeks can be linked to the processes that have taken place in the self-proclaimed republics in the past year. First of all, it is the elimination of almost all "outstanding" militant figures who were more or less popular since the spring of 2014 and who took an active part in the promotion of the so-called "Russian spring," or the Russian occupation of Donbas.
Read alsoPutin's office preparing evacuation of "LPR" envoy in Minsk to Russia – NGOThe military analyst suggests that Zakharchenko is a very serious bargaining chip for the Russian special services to simply eliminate him, because he could serve a subject of bargaining between the Russian Federation and Ukraine.
"The replacement of Zakharchenko can be the very issue on the agenda of the negotiations that may be conducted: Zakharchenko could be removed and replaced with a figure that irritates Kyiv less," Tymchuk said.
"I do not rule out these can be absolutely unexpected figures proposed by the Kremlin, these could be even representatives of the incumbent [Ukrainian] Opposition Bloc. And based on this, Moscow would be able to assert that Donbas had in fact been reintegrated into Ukraine, but de facto it would remain under Russia's control," he added.
The Ukrainian news outlet Novosti Donbassa earlier cited own sources who reported that the Donetsk statelet might in future be led by Oleksandr Bobkov, a former Ukrainian lawmaker from disgraced ex-President of Ukraine Viktor Yanukovych's party, while Vasyl Volga, who was a lawmaker for Ukraine's Socialist Party in 2006-2007, may be tapped to head the self-proclaimed Luhansk People's Republic.
If you see a spelling error on our site, select it and press Ctrl+Enter