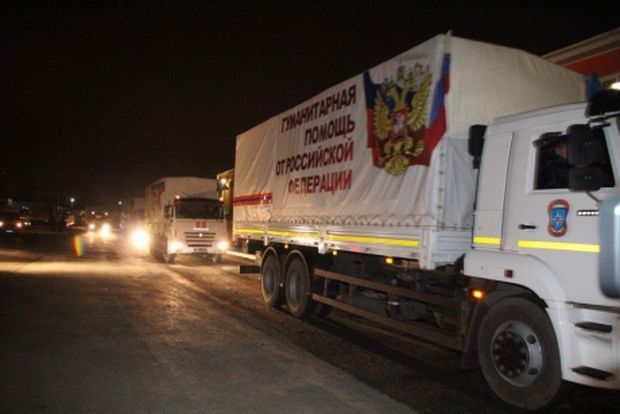 mchs.gov.ru
"Considerable evidence of Russia's involvement in the conflict remains. On October 26, a 17-truck convoy crossed the internationally-recognized border from Russia to Ukraine without proper control or inspection by Ukrainian authorities," Charge d'Affaires, a.i. Harry Kamian told the Permanent Council in Vienna on November 2, 2017.
"These convoys continue in clear violation of Ukraine's sovereignty and territorial integrity, and without fundamental international humanitarian principles being observed," he said.
Kamian also said that on October 19 and October 23, SMM imagery revealed the presence of military-type trucks and trailers near railway facilities in territory controlled by Russia-led forces.
"The ongoing campaign to prevent SMM access, up to and including its internationally-recognized border with Russia, prevents the SMM from fulfilling its mandate," he said.
Read alsoAnother Russian "humanitarian" convoy arrives in occupied Donbas"We further call for unimpeded SMM access throughout Ukraine, in full accordance with its mandate, to include its internationally-recognized border."
"The presence of weapons that should have been withdrawn, according to the Minsk agreements, remains an issue as well. Heavy armaments, including multiple launch rocket systems, remain on the field of battle, despite pledges to withdraw these indiscriminate weapons from the security zone. The United States repeats its call for the sides to adhere to their commitments made in the Minsk agreements. We call again on Russia, as the initiator of the conflict, to use its leverage and cease the hostilities, and to begin the disengagement of forces and withdrawal of weapons," the diplomat said.
In addition, he said "the United States again calls upon Russia to end its repressive actions in occupied Crimea and return control of Crimea to Ukraine."
Read alsoUkraine intel has footage proving Russia's "Wagner" mercenaries took part in seizure of Luhansk airport"The United States welcomes the release of Akhtem Chiygoz and Ilmi Umerov, Deputy Heads of the Crimean Tatar Mejlis, who had been wrongfully convicted on politically-motivated charges in connection with their opposition to Russia's attempted annexation of Crimea. We again call on the Russian Federation to end the ongoing campaign of politically-motivated legal action against the Mejlis and release the dozens of Ukrainian political prisoners it holds in Russia and in occupied Crimea," Kamian said, adding that the U.S. will not ever recognize Russia's purported annexation of Crimea.
"Crimea-related sanctions on Russia will remain in place until Russia returns full control of the peninsula to Ukraine," he said.