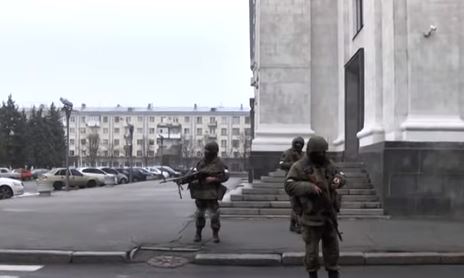 Screenshot YouTube
"An APC has been brought to the 'Ministry of Internal Affairs' in Luhansk, the building is surrounded by armed people, some are carrying hand grenade launchers. ['Minister' Igor] Kornet seems to have decided to 'appeal the decision of the court' about his dismissal from the post of minister. Now the main thing is that residents of neighboring houses do not become victims of 'the appeal.' These feuds are happening in the heart of the city," Dikhtyarenko wrote on Facebook.
As reported by the Luhansk local news website 0642.ua, the leader of the so-called "Luhansk People's Republic" ("LPR") Igor Plotnitsky by his "decree" removed from office "Interior Minister" Igor Kornet yesterday, November 20. Kornet refused to obey this order.
Kornet was said to have barricaded in the building of the Ministry of Internal Affairs together with former Ukrainian Berkut riot police officers. The building is cordoned off by the military loyal to Plotnitsky. The military also took control of the building of the local television.
At the same time, Novaya Gazeta sources claim that the military are equipped with small arms and mortars. Plotnitsky, who was in the workplace in the morning, allegedly ordered them to liberate the city, but they ignored the order. The unknown people are blocking access to administrative buildings, employees have been dismissed to their homes.
According to unconfirmed reports, three military Ural trucks with the "security" militants, subordinated to the head of the so-called "Donetsk People's Republic" ("DPR") Alexander Zakharchenko, arrived in Luhansk from the Russian-occupied city of Donetsk.
At the same time, according to journalist Denis Kazansky, it might be the "Big Brother" that has intervened in the feud of Plotnitsky and Kornet. "There are 'little green men' with white armbands in the city – the regular army of the Russian Federation entered Donbas with the same armbands in the summer of 2014. Perhaps, the 'Big Brother' has intervened in the conflict of Plotnitsky and Kornet," he wrote on Facebook.