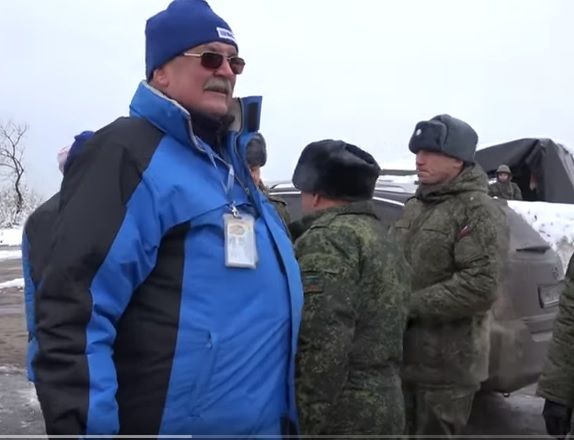 Screenshot
"Maybe the OSCE SMM can explain why its 'civilian monitor' performs a military salute to the LPR war criminal commander?!," Germany's Bild journalist Julian Roepcke wrote on Twitter.
In turn, the OSCE SMM to Ukraine published a clarification on Facebook in response to the said claim.
"In response to erroneous interpretation of video footage showing an SMM monitor facilitating the hand-over of the remains of Ukrainian Armed Forces soldiers near Shchastia on 25 November, the SMM would like to clarify:
Read alsoOSCE shows video of powerful night shelling near Donetsk filtering stationThe man the SMM monitoring officer is seen to greet is a member of an organization involved in exhumations, and the transfer/exchange of bodies and prisoners/detainees; the monitoring officer in question has worked alongside this individual and organization since 2015 to ensure captured combatants can return home, or that grieving families can find some degree of closure following the loss of loved ones.
While video footage appears to show a lapse in judgment on the part of the monitoring officer in question – something that is being addressed internally to ensure there is no repetition – focus on this one reflexive gesture is regrettable. The gesture was an involuntary one, typical of many people who have previously served in the armed forces; it does not in any way suggest endorsement or even sympathy for any position or viewpoint. It certainly does not detract from the important work the monitoring officer and his colleagues were engaged in at the time," the OSCE SMM to Ukraine wrote on Facebook.