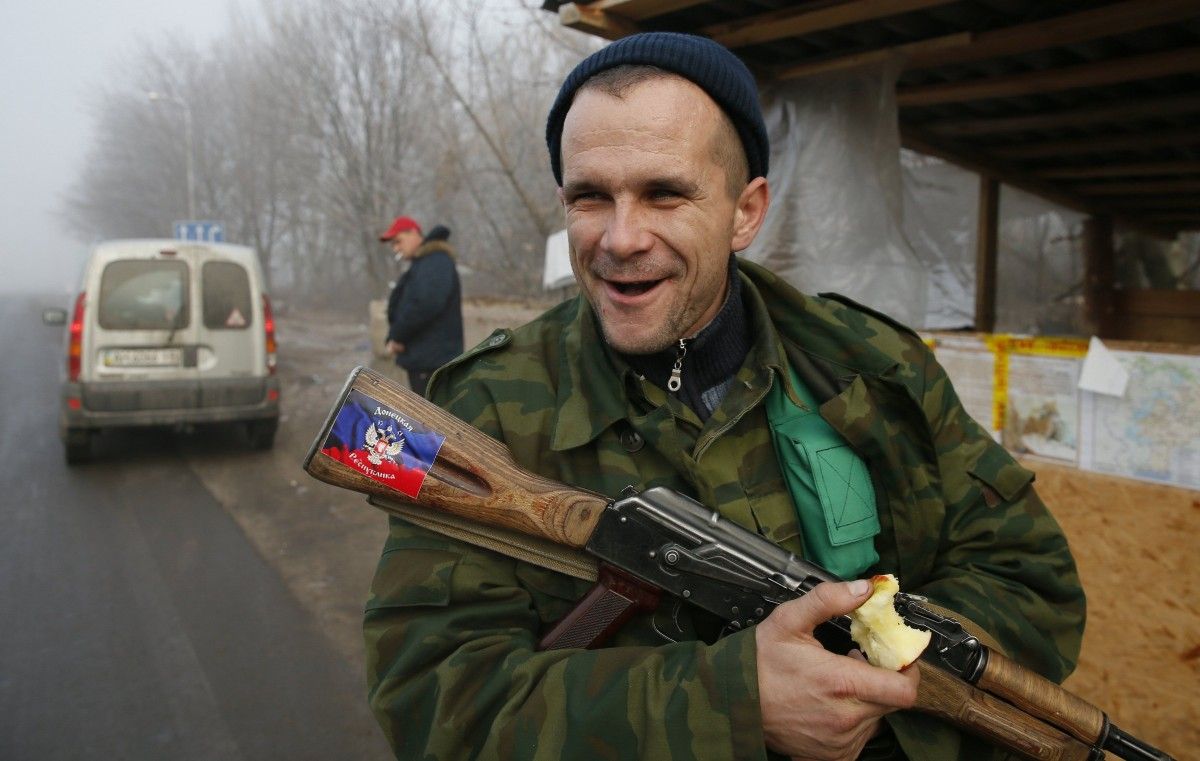 REUTERS
"The most prominent case was against Radomir Pocuca, a former special police spokesperson, who over several months of fighting in Ukraine posted almost daily videos, photos and other entries related to his time in Donetsk. Pocuca also claimed that he went to help Serbia's 'Russian brothers' for patriotic reasons, mainly as payback for Russia's support for Serbia in the dispute over the former province of Kosovo [which declared independence in 2008 – which Serbia has vowed never to recognize]," she wrote in the article titled "Facebook Reveals Serbian Fighters' Role in Ukraine War," posted by BalkanInsight on December 27.
Serbs are said to remember that Russian fighters volunteered for the Serbian side in the 1992-5 war in Bosnia, which pitched Serbs against a combination of Croats and Bosniaks [Bosnian Muslims].
"Many Balkan volunteers say they joined the [Russian-backed] rebels out of a deep sympathy with Russia and a sense of Slavic Orthodox Christian brotherhood," she wrote.
Around 24 fighters who returned to Serbia last year from Ukraine admitted guilt after the prosecution produced evidence of their presence on battlefields. There have been no trials, but only plea agreements.
Investigators mostly gathered this evidence also by examining their social media profiles.
Social media did not only help the authorities in Serbia and Montenegro to secure convictions; Ukrainian authorities have also used them to issue arrest warrants against the remaining Serbian fighters in the country.
In particular, arrest warrants were issued against six Serbian mercenaries, while Kyiv authorities maintain that almost 300 Serbs remain fighting in various areas in occupied Donbas.
The six Serbs, according to Ukraine's security service, fought in Ukraine in 2014 and then in Syria – another conflict zone in which Russia is deeply involved – in 2015.
All six allegedly belong to Wagner, a military company registered in Argentina, which the Ukrainian security service says serves as a paramilitary unit tasked with fighting for Russian interests across the world.
Bosnian police told BIRN that they believe that the mercenaries have a meeting point in Moscow, and that most of them are registered as temporary workers in Russia in order to avoid prosecution at home as foreign fighters.
Among the better-known Serbian fighters in Ukraine with experience in the Bosnian war is Dejan Beric.
Read alsoATO HQ: Group of Serbian snipers reportedly arrives in DonbasHe was recently spotted again in the Donetsk area with a new group of Serbian snipers.
Beric claims he also went there after being personally invited by two Russian volunteers who previously fought in the Balkan wars in the 1990s. "They called on me to repay the debt, in terms of moral and human spirit," Beric told BIRN earlier this year in an interview.
Contrary to some accounts published on the internet, Beric said that becoming a volunteer is simple; would-be fighters need only to catch a plane to Rostov-on-Don in Russia and then take a bus across the border to occupied Donetsk or Luhansk in Ukraine.
"I came from Sochi, where I worked, via Odesa to Sevastopol, where I became a member of the 'Defense of Sevastopol'… Then I went to Donbas," Beric recalled.