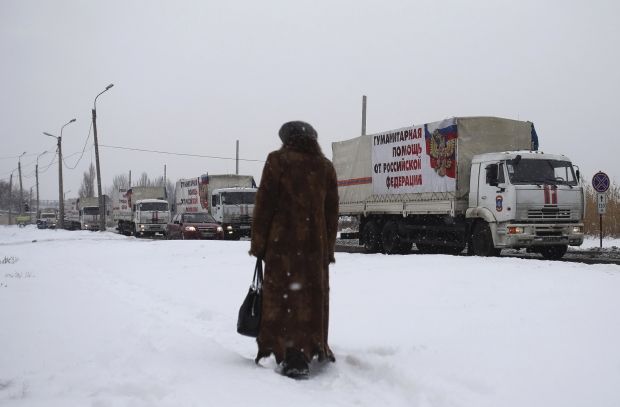 REUTERS
The Russian Emergency Ministry's humanitarian convoy of trucks has reached Russia's Donetsk and Matveyev Kurgan checkpoints on the Russian-Ukrainian border.
The Russian ministry claims "all the trucks underwent necessary customs procedures under the international humanitarian laws."
Read alsoOSCE: 66th Russian convoy cross into Ukraine, return through Donetsk border crossing pointAfter the checks they are proceeding to Donetsk and Luhansk regions of Ukraine. "The whole cargo is going to be unloaded at receiving centers in Donetsk and Luhansk regions," it said.
The ministry claims the trucks are delivering more than 400 tonnes of relief supplies, including baby food. "The supplies are going to be distributed by corresponding organizations to social infrastructure, including healthcare facilities," the ministry said.
It was the 73rd convoy sent by Russia.
Russia has been sending the so-called "humanitarian" cargo to the hostility zone in Ukraine's east since August 2014. Ukrainian border guards and customs officers are not allowed to inspect it.