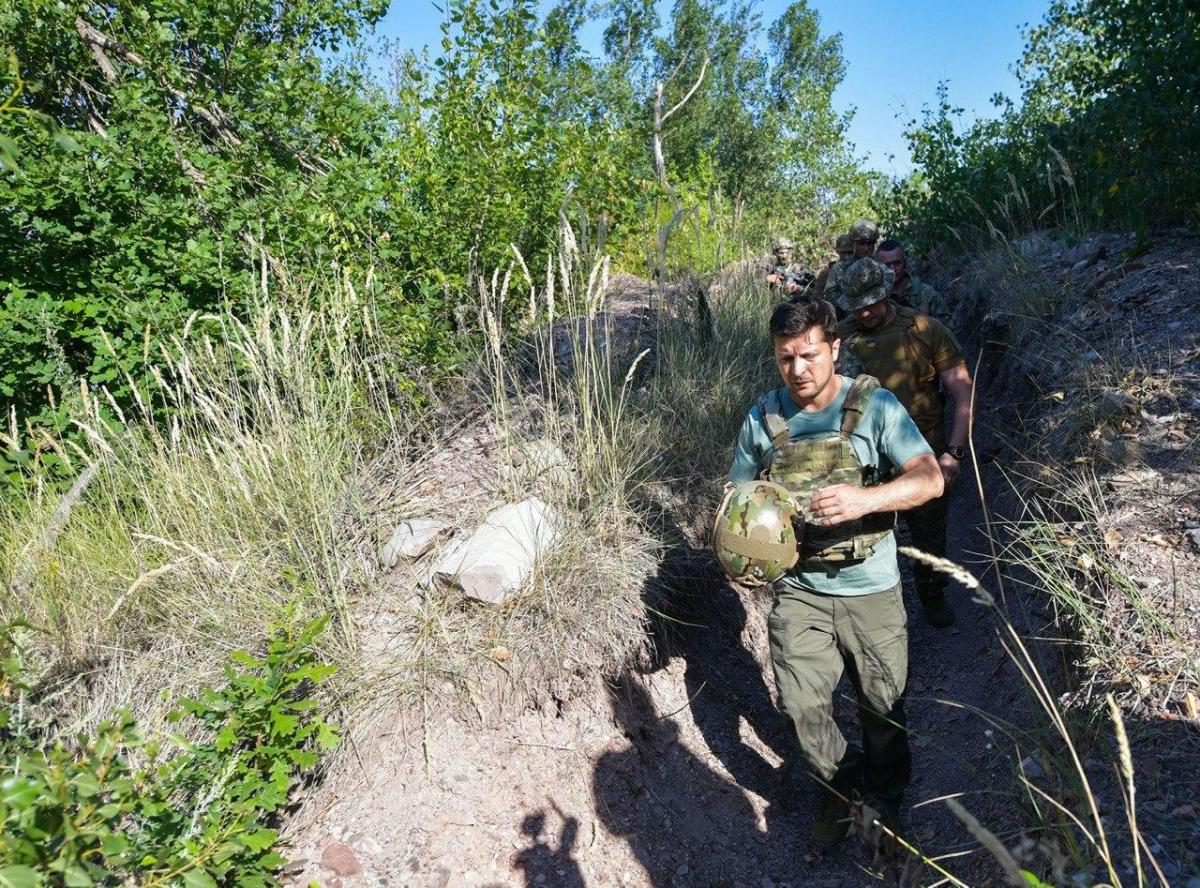 President's Office
Ukrainian President Volodymyr Zelensky has called the end of war in Donbas and the liberation of Ukrainian territories his top priority.
"When I promise something, these are not just empty words. Ending the war and getting Ukrainian territories back is my main priority. And these are not some romantic promises," he told the Austrian newspaper Wiener Zeitung in an interview, as reported by Ukraine's TSN TV news service.
According to Zelensky, it is not easy to keep such promises, but there is progress.
"We have returned 140 people from captivity. We held the disengagement of troops. There's no shelling there, almost no one dies. With the exception of one death, there have been no casualties for seven weeks. Everybody sees it, and Europe sees it too. Sometimes there are shots from the armed formations. But we do not answer them, which is good," the president said.
Zelensky pointed to the fact that the occupied territories of Donbas had faced a humanitarian catastrophe, as well as the spread of coronavirus.
Read alsoDonbas update: JFO Command reports three ceasefire violations Sept 14"But people who live in the occupied part of Donbas also see that Ukrainians are better off on the other side of the front. Things look sad for the miners in the occupied Donbas: they don't get adequate wages, while having to cover the high cost of water and electricity. If at some point people run out of patience, there may be riots," the president said.
"I know there are many there who are Ukrainians at heart. I don't want them to die. It's not easy for these people, many are held in prisons for celebrating holidays like Ukraine's Independence Day. Our soldiers, whom we released, said they had been serving sentences alongside pro-Ukrainian convicts. There are many people there who are pro-Ukraine," Zelensky added.
Latest developments in Donbas
So-called "DPR leader" Denis Pushilin threatened to open fire on Ukrainian army positions from 08:00 a.m. local time on September 7.
As grounds for such move, Pushilin claimed violations by Ukrainian forces of the latest ceasefire agreement sealed on July 22. He demanded that Ukrainian troops undo the trenches that had allegedly been dug after July 22, and warned that they "have every right" to act to eliminate the alleged violations.
In turn, Commander of the Joint Forces, Lieutenant General Volodymyr Kravchenko said the Ukrainian troops had not violated any agreements.
On September 6, the OSCE Special Monitoring Mission to Ukraine confirmed there had been no violations of the ceasefire agreements by the Joint Forces.
On September 9, participants in a Trilateral Contact Group meeting agreed on a joint inspection near Shumy with the participation of a representative of the OSCE coordinator.
The President's Office said the relevant agreement on the inspection had been reached to refute fake news and prevent new provocations.
On September 10, the Office of the President of Ukraine said the "one-time inspection" had been suspended over continuous change in the Russian side's demands.
At 14:15 local time on September 10, Russian occupation forces in Donbas opened fire on Ukrainian positions near Shumy.