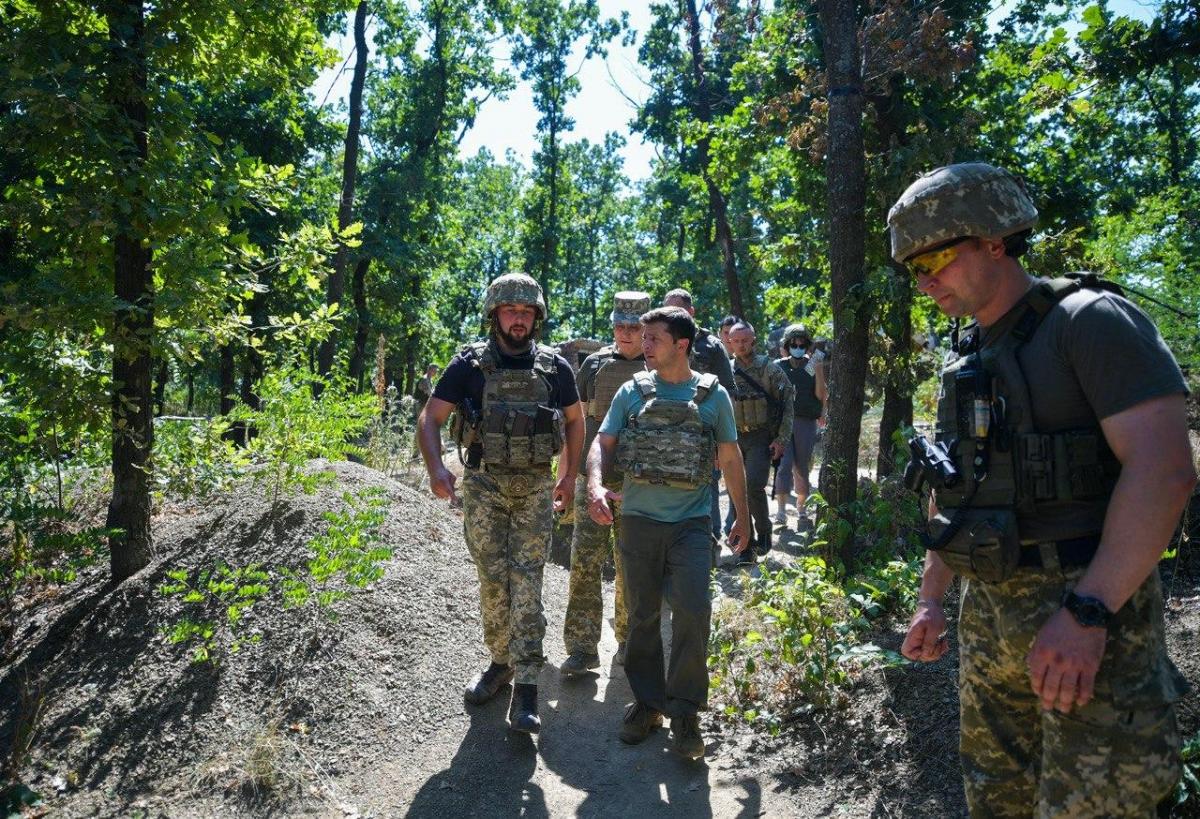 Zelensky's working visit to Donbas / Photo from the President's Office
Ukrainian President Volodymyr Zelensky has outlined ways to achieve peace in Donbas, saying that the Armed Forces of Ukraine should be constantly and persistently strengthened while peace talks are held in the Normandy and Minsk formats.
"The president stressed that one of the ways to peace is the constant and persistent strengthening of our Armed Forces in parallel with talks in the Normandy and Minsk formats," the press service of the President's Office said, reporting on Zelensky's working trip to the Joint Forces Operation zone.
Read alsoOnly random shots recorded in Donbas amid truce, General Staff chief says
The Ukrainian government will continue seeking the peace, the return of Ukrainian hostages and recovery of the occupied territories, because this is what the Ukrainian nation wants, he said.
According to him, achieving peace in Donbas is key to economic growth of the state and an improvement in the quality of life of every Ukrainian.
Andriy Ordynovych, a representative of the Joint Center for Control and Coordination of issues related to the ceasefire regime and stabilization of the situation along the contact line in Donbas, confirmed that, despite random acts of provocation by Russia-controlled forces, the Ukrainian military's morale is high. "They are ready to continue to carry out the tasks set by the country's military and political leadership," he said. "When communicating with them, I would say this: everyone is determined to protect the state and achieve peace as soon as possible."
Zelensky also visited the front-line town of Maryinka in Donetsk region and talked with local residents. They said that in the absence of hostilities, the city is gradually reviving: people with children are returning home, many local residents are beginning to repair their homes. At the same time, people complained about the lack of natural gas and water supply.
Chairman of Donetsk Regional State Administration and head of the region's Military-Civil Administration Pavlo Kyrylenko, in turn, said that amid the ceasefire, it would be possible to safely begin repairing infrastructure to solve this problem. He said that under such conditions, natural gas and water would be available within six months.
In addition, the president asked the local authorities to start rebuilding Maryinka's infrastructure, namely roads, as soon as possible.