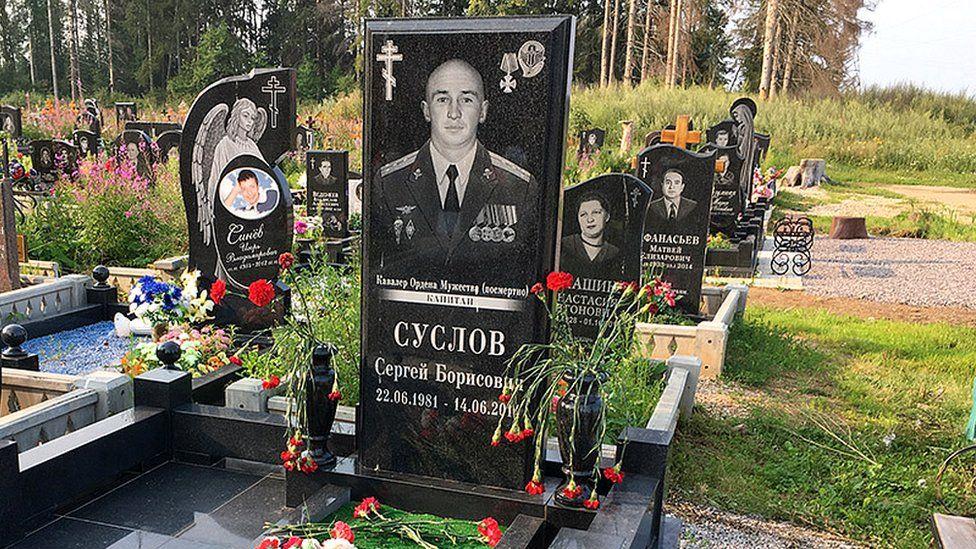 bbc.com.russian
Journalists with the Russian BBC service have discovered the graves of the Russian military who had fought against Ukraine government troops in Donbas.
That's amid the Kremlin's official denials claiming that its regular army is not involved in the conflict in eastern Ukraine, BBC reports.
A grave where an officer of the Russian Special Operations Forces was buried, Captain S. B. Suslov, was discovered in 2016 by a group of independent investigators with the Conflict Intelligence Team (CIT) in Sonltsegorsk, Moscow Region, where a spec-ops base "Senezh" is located.
During his service, he had been awarded a medal "For Crimea Annexation and an Order of Courage (posthumously). The exact location where the officer was killed remains unclear, while the date of death is June 14, 2014. It was at that time when active battles were raging for the strategic port city of Mariupol on the Sea of Azov.
Read alsoOSCE reports 60 civilian casualties in Donbas since year-start
Other Russian nationals, Sergei Fedchikov and Vadim Vasilevsky, were killed in July and August of the same year, probably in battles of the Luhansk Airport.
In eastern Ukraine, former military were part of the then-freshly-formed Wagner Private Military Company, which is associated with the infamous St. Petersburg businessman and Putin's friend Yevgeny Prigozhin.
In the town of Zaraisk in Moscow region, there is an alley of heroes, where soldiers were buried who had been killed in local wars and armed conflicts. One of the names honored at the alley is that of Hero of Russia, Senior Lieutenant Evgeny Trundaev, who was killed on October 15, 2014.
It was for Trundayev that the Russian FSB sought to take revenge on the Ukrainian intelligence officer Grigory Sivachenko, having recruited an ex-national guard to blow him up. The man was immediately detained and that is how the Kremlin trace was exposed in the foiled assassination plot.
Read alsoSBU releases new evidence of Russian Wagner fighters' involvement in war crimes against Ukraine
As UNIAN reported earlier, Russia mulls making official their arms supplies to Kremlin's proxy forces in Donbas if the United States pursues with allocating $300 million worth of military assistance to Ukraine.