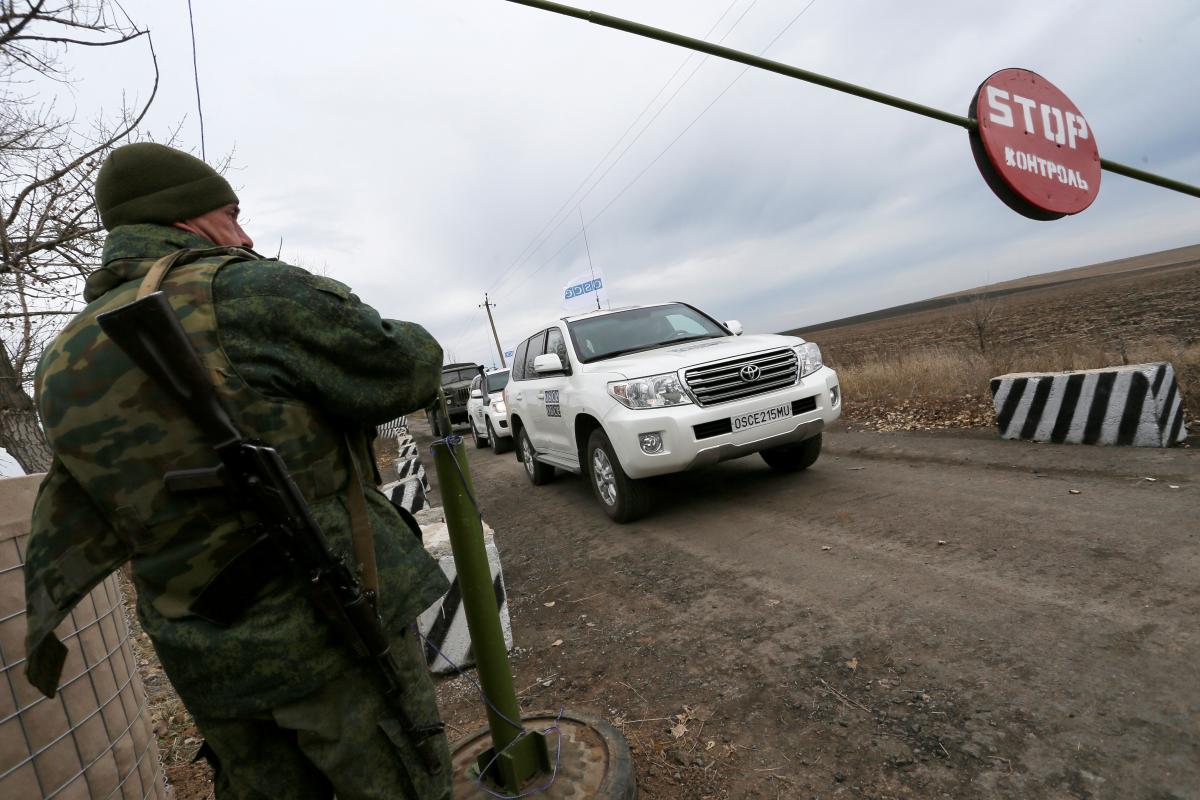 REUTERS
Ukrainian members of the Joint Center for Control and Coordination (JCCC) of the ceasefire and stabilization along the contact line in Donbas claim the Russian Federation systematically supplies personnel, weapons and military equipment to the temporarily occupied territories of Ukraine.
"In order to conceal the movement of occupying forces and assets and move unnoticed by OSCE SMM monitors, the enemy takes dirt roads bypassing official checkpoints," the press center of Ukraine's Joint Forces Operation Headquarters said on Facebook.
It is noted that violations of existing agreements on the withdrawal of heavy weapons from the contact line are constantly recorded, as well as the arrangement of fortified positions and mining of territories by disengagement sites and residential quarters, which, of course, endangers the lives of civilians of Donbas.
These facts are confirmed by representatives of the OSCE SMM in their daily spot reports.
In particular, the SMM long-range UAV has recently recorded at least 30 tilt trucks that crossed in from the Russian Federation to the temporarily occupied territory, bypassing official checkpoints.
Read alsoDonbas children deployed as weapons in Russia's hybrid warfare against Ukraine, rights watchdog warns
Over 70 military-type trucks, repair and recovery vehicles, two T-64 tanks and two BTR-80 armored personnel carriers, which were located in the occupied city of Luhansk.
Also, the 9K35 Strela-10 anti-aircraft missile system was spotted near a residential area in the town of Khartsyzk.
"Russian occupiers continue to use civilians in Donbas as a human shield, setting up fortified positions in residential neighborhoods of the town of Horlivka. Two new trenches and defenses built have been recently found in the town. In addition, about 590 anti-tank mines were recorded in the vicinity of the village of Shyroka Balka," the JCCC said.
These facts indicate "the Russian invaders are still strongly reluctant to comply with the Minsk agreements, openly ignoring their obligations undertaken within consultations at the Trilateral Contact Group."
"By their actions, they confirm the desire to further exacerbate the conflict by increasing the number of weapons and military equipment in the vicinity of the contact line, thereby endangering civilians in the settlements they have occupied," the JCCC members said.