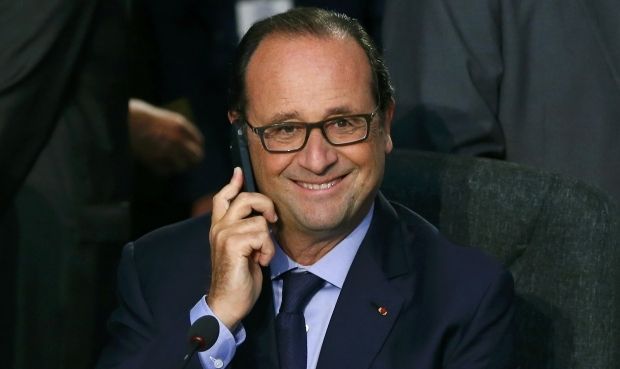 REUTERS
The press service of the Ukrainian head of state reported that the French and Ukrainian presidents had discussed the situation in eastern Ukraine by phone.
"These coming elections contradict the Minsk agreements, which were supported by all parties, including Russia, during the international negotiations in Milan," Hollande said.
Hollande proposed to continue the search for a solution to this problem in a multilateral format, particularly in the "Normandy format" of talks involving Ukraine, Russia, France and Germany
Ukrainian President Petro Poroshenko said he was ready to continue the multilateral dialogue and stressed that the insurgents' intention to hold the illegal elections contradicted Ukrainian legislation and all agreements, especially the Minsk Protocol of September 5.
President Hollande also congratulated his Ukrainian counterpart on Ukraine's holding of successful and democratic parliamentary elections. He also said that the elections, which had received a high international assessment, confirmed the legitimate right of the authorities in Kyiv to defend their country's territorial integrity.
Poroshenko thanked the French President for his support, and said that a strong pro-European majority in the Verkhovna Rada, Ukraine's parliament would help to realize reforms that would grant Ukraine the prospect of membership of the European Union. He also called on France to ratify the Association Agreement between Ukraine and the EU as soon as possible.
In addition, the sides discussed economic and military-technical cooperation, and the question of the energy security on the eve of the tripartite consultations on energy scheduled for October 29 in Brussels.