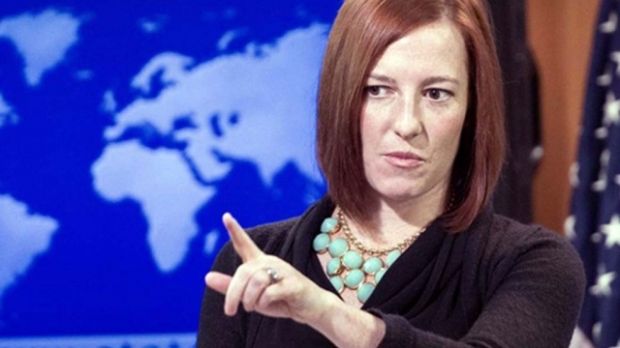 Jen Psaki: Thw world should not recognize Sunday's vote in the Donbas / Photo from middleeastmonitor.com
U.S. State Department spokeswoman Jen Psaki told journalists at a press briefing in Washington on Friday that the United States considers the vote illegal, and that holding them is a violation of the September 5 Minsk Protocol signed between Kyiv and the insurgents on halting the conflict in the Donbas.
She said the United States was calling on the international community not to recognize the elections in the self-proclaimed Donetsk and Luhansk Peoples' Republics, which plan to elect governments and legislatures independent of the Ukrainian authorities.
Psaki said the only elections in the breakaway districts that the United States would consider legitimate were those already scheduled under Ukraine's special law on the status of the Donabas - local elections in Donetsk and Lugansk regions on December 7.
Official spokeswoman of the National Security Council (NSC) at the White House Bernadette Meehan also said that the holding of "elections" in the breakaway districts of Donetsk and Luhansk regions would be a violation of Minsk agreements.
Earlier, Russian Foreign Minister Sergei Lavrov said that Russia is ready to accept the results of the elections in the Donbas.
Russia in March 2014 annexed and occupied the Ukrainian territory of Crimea. It then began to destabilize the eastern regions of Ukraine, sending in its special forces to aid insurgents in talking over several public buildings in Donetsk and Luhansk regions. Then it sent in mercenaries, weapons APCs and tanks to fuel the insurgency after Ukraine lost control of large stretches of its eastern border with Russia.
There is also overwhelming evidence that Russian regular troops have been involved in the fighting in eastern Ukraine, and that Russian troops are still in the territories controlled by the insurgents, in defiance of the agreements reached under the Minsk Protocol.
According to that agreement, the insurgents pledged to hold elections only in accordance with the laws of Ukraine, but they later reneged on the deal, and announced their intention to hold a vote on November 2 to elect the deputies of the local parliaments and heads of their self-proclaimed republics.
Earlier, the United States and the European Union warned that the holding of these elections would be a violation of the Minsk accords.
Ukrainian President Petro Poroshenko on October 28 said that by going ahead with the pseudo elections, the insurgents were jeopardizing the entire peace process in Ukraine.