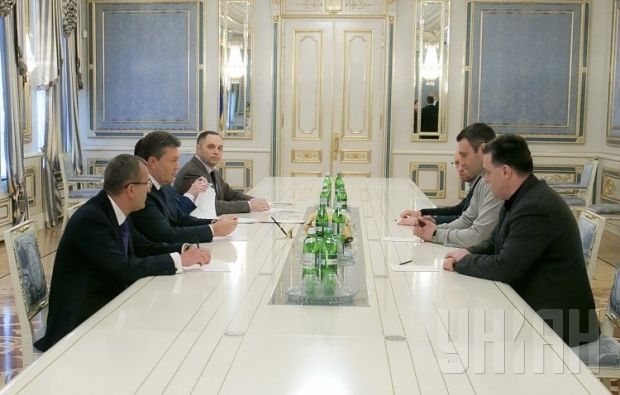 Poland participated in talks that halted bloodshed in Kyiv / Photo by UNIAN
"Each round of serious talks about the future of Ukraine and settlement of the conflict should be held with our participation," Schetyna said.
"Talking about Ukraine without Poland is the same as if the future of Libya, Algeria, Tunisia, and Morocco were to be discussed without Italy, France and Spain," he said.
"The Ukrainian crisis must be solved in the 'Weimar Format' - Poland, Germany and France - because we possess more knowledge and experience," Schetyna said.
Schetyna noted that it was former Polish Foreign Minister Radoslaw Sikorski who initiated a meeting between the foreign ministers of Germany and France with former President Viktor Yanukovych in Kyiv in February 2014. The negotiations resulted in signing of an agreement between the government and the opposition.
"They managed to put an end to the bloodshed, when snipers were firing on a defenceless crowd of protesters. They were able to prevent even a greater tragedy because Yanukovych lost control of the situation. It was the biggest success of the West in Ukraine this year," Schetyna said.
As UNIAN reported, earlier this year Polish media and the opposition have repeatedly criticized the government in Warsaw for its failure to engage Poland in negotiations on the settlement of the Ukraine conflict.
In September, Polish President Bronislaw Komorowski stated that Poland should not force its help upon Ukraine with regard to restoring peace in the Donbas.
After the Russian occupation of the Ukrainian territory of Crimea, several rounds of talks were held in various formats, including the "Geneva Format", which involved the United States, the EU, Ukraine and Russia, the "Normandy Format" – including Germany, France, Ukraine and Russia, and the "Minsk Format" - involving Russia, Ukraine, the EU and the OSCE.
In early September, during the meeting in Minsk the parties agreed on a ceasefire in Donbas, but these agreements have been violated by pro-Russian fighters, who continue attacking the positions of the Ukrainian military, and who have held elections in the self-proclaimed Donetsk and Lugansk Peoples' Republics, in breach of the protocol.