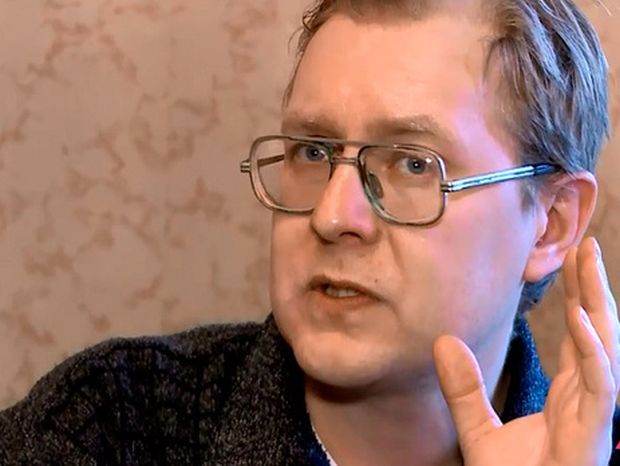 gordonua.com
The prosecutor in the latest trial of Russian poet and former teacher Alexander Byvshev has demanded a two-and-a-half prison sentence for a poem called "On Ukraine's Independence".  This is not the first time that 45-year-old Byvshev from Kromy (Oryol oblast) has faced criminal proceedings over his poetry, but the outcome this time could be devastating since Byvshev is the sole carer for his two elderly parents, both with special needs. 
The prosecution claims that the poem incites "to hatred or enmity, and denigration of human dignity," the Kharkiv Human Rights Protection Group reports.
presents Ukraine as under attack, with Moscow enraged and threatened by Ukraine's wish for freedom and Maidan.  The image painted of Russia, its imperial aspirations and aggression against its neighbors, is undoubtedly extremely unflattering, but this is – or should be – a far cry from "incitement to enmity."   Byvshev himself rejects the charges and says that he was simply expressing his opinion.
Byvshev first posted the poem on his VKontakte page on February 22, 2015, after it had been published by a number of Ukrainian sites.
Byvshev's persecution began in 2014 over his support for Ukraine and opposition to Russia's invasion of Crimea.  As well as the criminal proceedings, he lost his teaching job and was placed on Russia's notorious "List of Terrorists and Extremists."  All of this made it effectively impossible for him to find a proper job, let alone consider emigrating with two gravely ill parents in their eighties.
Read alsoPatriot jailed for not betraying Ukraine in occupied Crimea resists pressure to end hunger strike
Byvshev reported on April 3 that yet another criminal case had been initiated over poems which he posted so that readers could see what had "hurt the delicate feelings of our enforcement bodies who are ever taking offence."
Byvshev was sentenced to six months' community service on July 13, 2015, over the poem "To Ukrainian Patriots" which he posted on his social network pages on March 1, 2014, two days after Russian soldiers without insignia seized control in Crimea.  In the poem, he wrote that Ukrainians should ensure that not one inch of Crimea is handed "to Putin's chekists [security operatives]."   This was also treated as "incitement to enmity", with the court also ordering that his laptop be seized and prohibiting him from working as a school teacher for two years.
A month earlier Byvshev had been added to Russia's 'List of Terrorists and Extremists', with this resulting in all accounts being frozen.  His flat had also come under attack twice and the Sova Centre in Moscow which monitors both extremism and hate speech reported that it was Byvshev who had become the target of a hate campaign.  It pointed out that an article published in a local newspaper had been totally in the style of Stalin's campaign against so-called 'cosmopolitanism.'