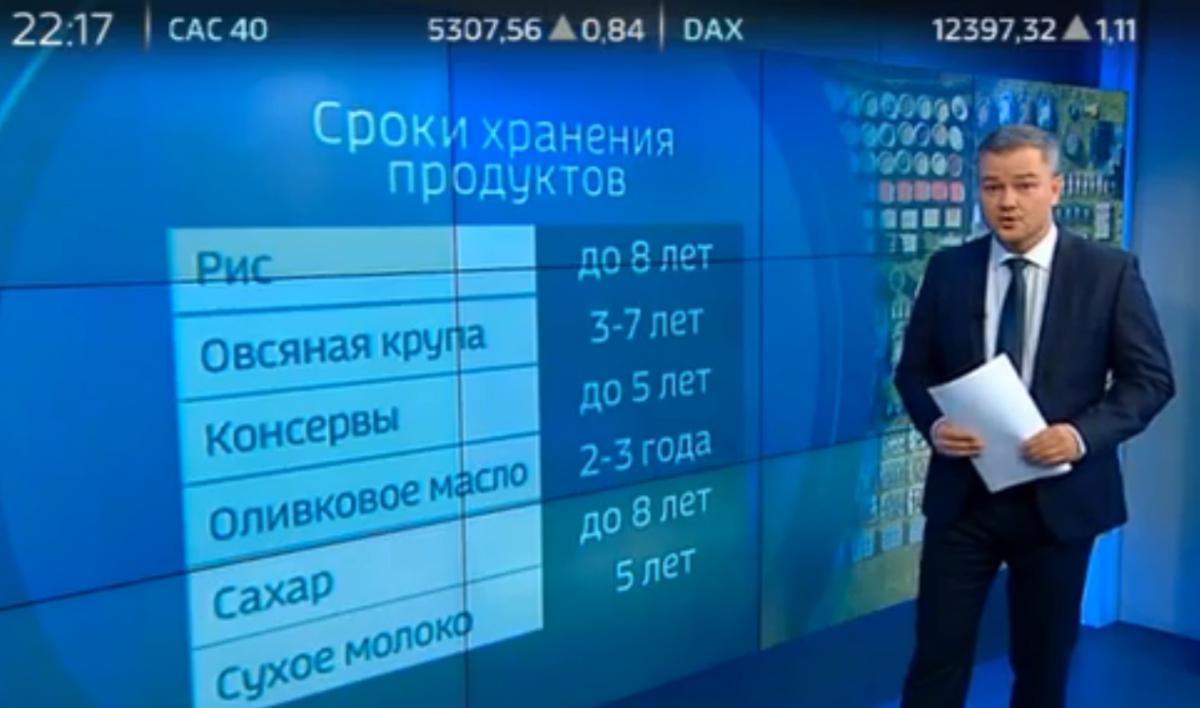 Snap from video
A propaganda-wielding Rossiya24 TV channel compiled a list of groceries and necessities that Russians might need to survive in bomb shelters or bunkers at the time of war.
A TV news host explained that in the light of deteriorating U.S.-Russia relations over Syria, "hysteria has hit the fan" on the internet regarding possible prospects of World War 3, Vesti.ru reported. 
At the same time, the report goes on to elaborate on a Doomsday grocery set required to survive in a shelter.
The Russians are advised to follow a "less sweets, more water" principle. It is noted that it is best to stock up on rice, oatmeal, canned meat, olive oil, and milk powder.
Pasta, buckwheat and sweets are not on the "must take" list due to a short storage period.
Read alsoTrump warns Russia on Syria missile threat – media
Russians were also advised to have a considerable package of medications handy (in particular - iodine medicines), as well as luminescent light sources, sealed waste containers, and several liters of bleach.
Earlier, U.S. President Donald Trump in a confusing series of tweets first promised to carry out a missile strike on Syria as a response to the latest chemical attack in Douma, adding that Russia should "get ready" for this, and a little later he said that today's relationship between Moscow and Washington is worse "than has ever been," adding that there is "no reason for this."
Russia's ambassador to Lebanon Alexander Zasypkin earlier told a local Al-Manar TV channel that Russia reserves the right to shoot down all incoming missiles in Syria and also engage launch sites in case of a U.S. attack.