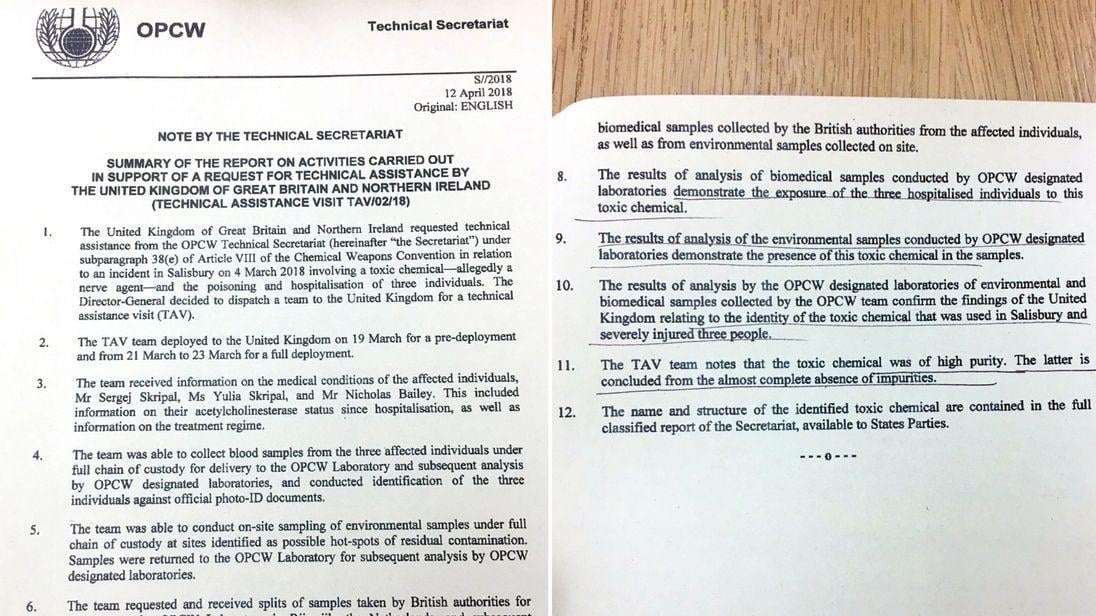 Sky News
Independent chemical weapons scientists have confirmed that "high purity" novichok was used in the attempted murder of former Russian spy Sergei Skripal and his daughter Yulia.
Tests carried out by experts from the Organisation for the Prohibition of Chemical Weapons (OPCW) showed the nerve agent was found in environmental samples collected in Salisbury, according to Sky News.
Blood tests also revealed that the chemical was found in blood samples taken from the Skripals and Detective Sergeant Nick Bailey, the police officer who first attended the scene.
Read alsoYulia Skripal discharged from hospital, taken to secure location – media
The report from the OPCW says the chemical was "high purity" with a complete absence of contaminants.
Foreign secretary Boris Johnson called the results "conclusive."
"There can be no doubt what was used and there remains no alternative explanation about who was responsible – only Russia has the means, motive and record," he said.
The tests were carried out by four independent laboratories affiliated with OPCW and samples were transported under a "full chain of custody", the report said.
It did not name novichok directly but said: "The results of the analysis by the OPCW designated laboratories of environmental and biomedical samples collected by the OPCW team confirms the findings of the United Kingdom relating to the identity of the toxic chemical that was used in Salisbury and severely injured three people."
Tests by military experts at the Porton Down laboratories in Wiltshire found that novichok, one of a group of deadly chemical compounds developed by the Soviet government in the 1970s and 1980s, was responsible for the poisoning.
Russia has strongly denied involvement in the Skripal's poisoning and challenged the UK assessment that novichok was to blame.
The OPCW was tasked with identifying the chemical, not with attributing its origin or ascertaining blame for the poisoning.