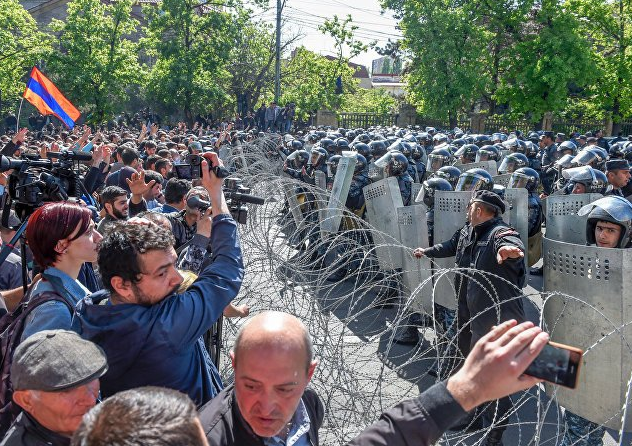 @OlegPanfilov7
Armenian police detained at least 29 protesters amid civil unrest in downtown Yerevan.
First clashes erupted between protesters and police on Monday afternoon, NEWS.am wrote.
"My Step" initiative leader, opposition's Civil Contract Party member and National Assembly (NA) "Way Out" (Yelk) Faction head Nikol Pashinyan jumped over the barbed wire fence set up by police forces, while protesters followed his lead.
Police employed stun grenades against protesters, with 46 people—including Pashinyan— reported to have been hospitalized.
Read alsoAnother unrecognized republic "Artsakh" to appear on world map: Azerbaijan's rogue Nagorno-Karabakh holds illegal referendumOn April 15, Nikol Pashinyan had called on people to block Yerevan's bridges, streets, and subway on Monday.
Since Monday morning, the demonstrators closed off and marched through several streets in downtown Yerevan.
Protesters are blocking a number of downtown Yerevan streets since Tuesday morning, too.
On March 31, the Civil Contract Party, led by Nikol Pashinyan, had started a protest march through several towns of Armenia with an objective to prevent the third term in office by ex-President Serzh Sargsyan, this time as the next likely Prime Minister.