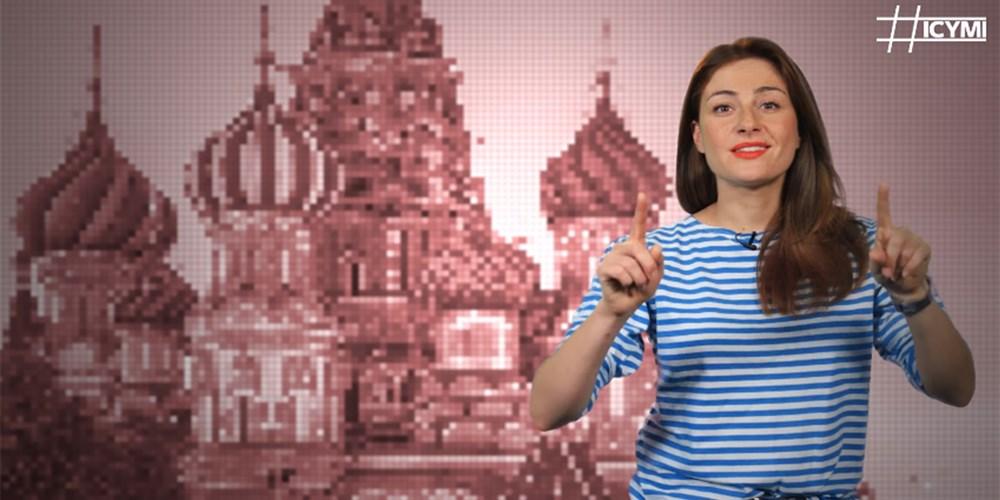 ICYMI via YouTube
On most days, ICYMI, a millennial-focused channel on YouTube, looks like a standard, BuzzFeed-style digital media knockoff. There is, however, one distinct difference between ICYMI's videos and any other two-minute news blast on YouTube: Host Polly Boiko's monologues are part of RT, the English-language media company backed by the Russian government.
NBC News discovered the connection through registration information of ICYMI's website, which lists the same entity as the registration for RT's website.
Most of ICYMI's videos have the same look. Boiko stands in front of a green screen with bright, bouncy graphics and a comic-book-style font as she speaks into the camera about various news topics. In between fun videos about internet oddities, the channel publishes diatribes from Boiko about international scandals, pushing the same talking points as those found on other Russia-backed channels such as Russia Today. In one video, Boiko discusses the Skripals poisoning — with users having no clear way of knowing about the video's connection to Russia's media efforts.
Read alsoRussian infowar: Twitter battles rage over SalisburyIn another, Boiko complains that the West blames Russia for all of its problems.
Behind slick graphics and poppy background music, ICYMI has managed to evade YouTube's new efforts to identify Russian propaganda for over three months. ICYMI is featured on RT's "shows" page.
ICYMI launched on YouTube, Facebook, Twitter and Instagram in January, and its most recent Facebook video about Skripal's poisoning drew more than 135,000 views in five days.
ICYMI showcases the increasing complexity of Russia's efforts to spread its talking points across the internet, often in ways that make it nearly impossible to identify such channels as being backed by a foreign country. The internet-savvy content looks and sounds like many other popular, youth-oriented media brands, helping it avoid YouTube's new policy of placing banners that denote acceptance of government funding while building up an audience.
Read also"USA Really. Wake Up Americans": Russia launching another propaganda outlet in U.S.Clint Watts, a former FBI counterintelligence agent who testified before Congress about Russia's disinformation campaign last year, called ICYMI a prime example of Russia "catching up" with the new rules created by tech giants to limit the reach of its propaganda.
"The idea with the most advanced actors is to play to the terms of service, to play within the new terms," Watts said.
Watts called it an "exploit," saying social media companies will have to be as creative as the propaganda outlets trying to find loopholes in their service.