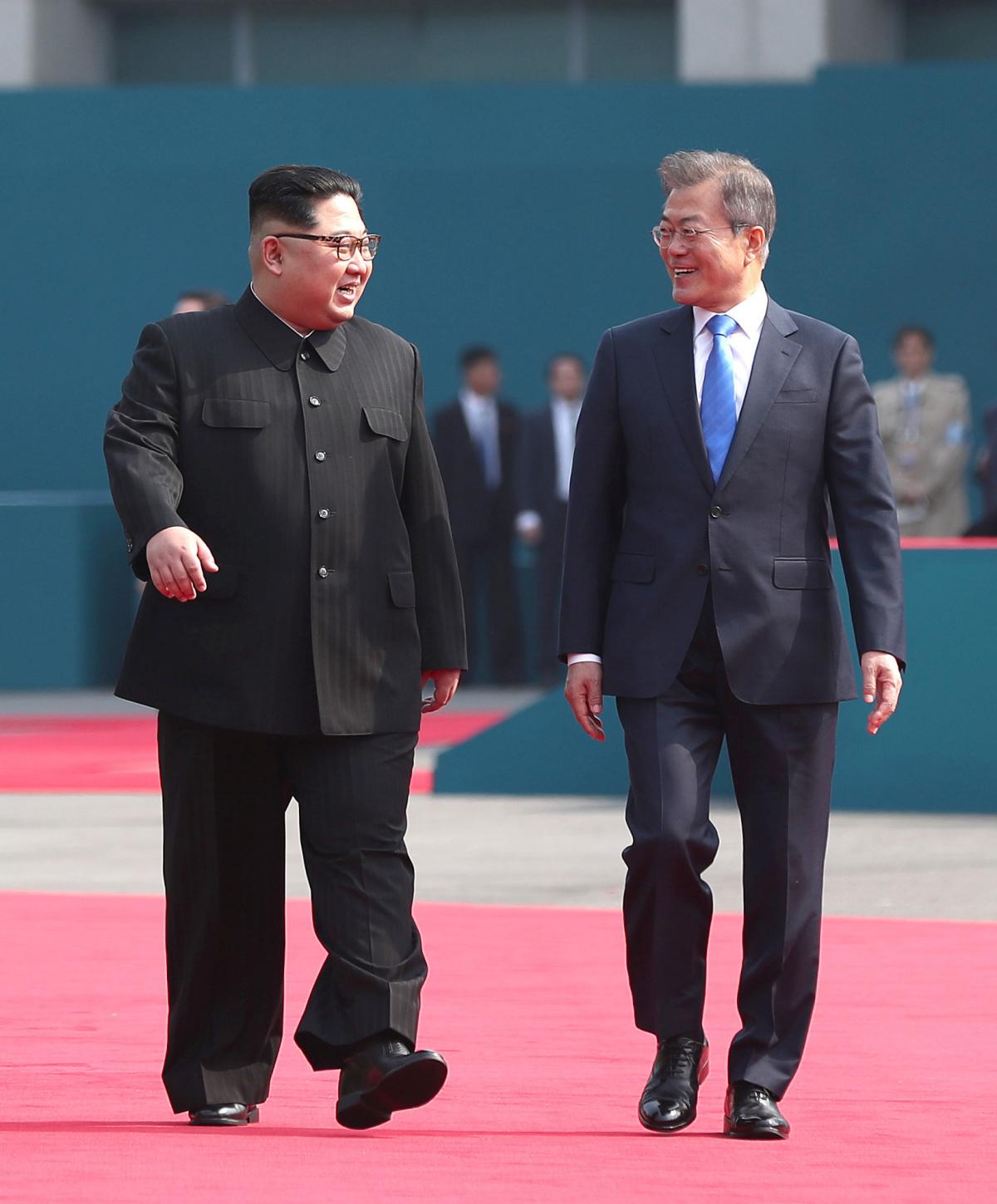 REUTERS
With a single step, Kim Jong Un broke with decades of hostility and distrust to become the first North Korean leader to cross into South Korean territory since 1953.
It marked the beginning of a landmark summit, the first meeting of the leaders of North and South Korea in over a decade, with broad implications for the world, CNN wrote.
Shaking hands with Moon Jae-in, while standing in the demilitarized zone (DMZ) dividing the two countries, Kim told the South Korean President he felt the weight of meeting at "such a historic location."
"It was a very courageous decision for you to come all the way here," Moon replied.
North Korean leader Kim Jong Un, left, and South Korean President Moon Jae-in walk together at the border village of Panmunjom Friday.
The highly-choreographed summit is the result of months of diplomatic talks between the North and the South and every moment has been laden with symbolism and history by organizers.
But in a rare unscripted moment right after their first meeting on the demarcation line, Kim invited Moon to step into the northern side of the DMZ. "Maybe this is the right time for you to enter North Korean territory," Kim said to Moon, who took him up on the invitation.
South Korean viewers in Seoul erupted at the warm greeting between Kim and Moon, with residents gathered around television screens across the city applauding and cheering.
"I didn't think I would be able to see such things happening in my life. I am happy to be witness to history in the making," local resident Kwak Eun-jung told CNN.
Read alsoN.K. announces freeze on nuclear, missile tests – media
Kim and Moon have a full day of talks that are expected to focus on three subjects with worldwide implications – the denuclearization of the Korean Peninsula, a peace settlement and the improvement of bilateral relations.
The grand ceremony of the day began early in the Koreas when Moon's motorcade from Seoul to the DMZ was tracked the entire way by helicopters live broadcasting the journey.
Crowds of supporters, holding signs calling for denuclearization, waved off the South Korean President as he left his residence in Seoul.
Hours later, sitting at a specially designed table surrounded by the political elite of North and South Korea, Kim said he wanted to write a new chapter in Korean relations.